Home

>
Transcript of Proceedings, Burglary, 6 July 1839 [Extradition of JS et al. for Treason and Other Crimes]
Source Note

Transcript of Proceedings, Burglary, [], Daviess Co., MO, 6 July 1839,

Extradition of JS et al. for Treason and Other Crimes

(State of MO, Office of the Governor 1841); handwriting of ; certified by , 6 July 1839; docket by unidentified scribe, [, Daviess Co., MO], [6 July 1839]; notations by unidentified scribe, 14 Sept. 1840; eight pages; Joseph Smith Extradition Records, Abraham Lincoln Presidential Library, Springfield, Illinois.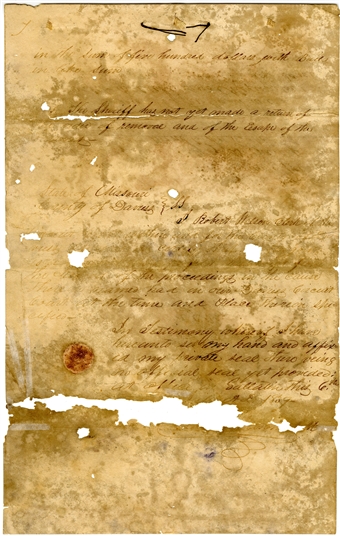 in the sum of five hundred dollars, with Bail in like sum
[P.] S. The Sheriff has not yet made a return of [t]he order of removal and of the Es[c]ape of the Prisoners—
State of Missouri)
SS
County of )
I Clerk of the Circuit Cou[rt] within and for the County of afo[resaid] do certify that [the] foregoing is a [true, full and?] perf[e]ct Tran[scr]ipt from the Record of the proceedings in the cause therein named had in our Circuit Court at the time and Place Therein specified—
In Testimony whereof I have hereunto set my hand and affixed my private seal there being no official seal yet provided: at office in this 6
th.
[day of] Jul[y] A D 1839—
in the sum of five hundred dollars, with Bail in like sum
[P.] S. The Sheriff has not yet made a return of the order of removal and of the Escape of the Prisoners—
State of Missouri)
SS
County of )
I Clerk of the Circuit Court within and for the County of aforesaid do certify that [the] foregoing is a true, full and perfect Transcript from the Record of the proceedings in the cause therein named had in our Circuit Court at the time and Place Therein specified—
In Testimony whereof I have hereunto set my hand and affixed my private seal there being no official seal yet provided: at office in this 6th. day of July A D 1839—