Home

>
Witness List, circa 2 April 1834 [State of Ohio v. D. P. Hurlbut]
Source Note

Witness List, , Geauga Co., OH, [ca. 2 April 1834],

State of OH v. D. P. Hurlbut

(Geauga Co., OH, Court of Common Pleas 1834; in Witness Docket 1831–1835, p. 110; unidentified handwriting; Geauga County Archives and Records Center, Chardon, OH. Transcription from a digital color image made of the original in 2011.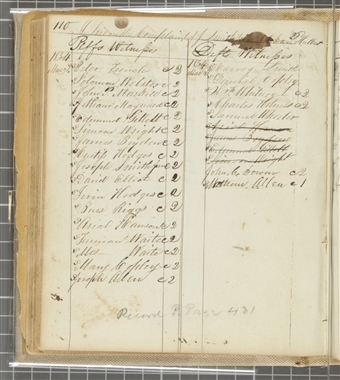 on the Complaint of J. Smith Jnr vs
| | | | | | |
| --- | --- | --- | --- | --- | --- |
| | Pl[ainti]ffs Witnesses | | | Def[endan]ts Witnesses | |
| 1834 | s | @ 2 | 1834 | s Harvey Smith | |
| Mar T. | s Solomon Webster | @ 2 | Mar T | s | |
| | s John P. Markill [Markell] | @ 2 | | s — | @ 2 |
| | s Jothams [Jotham] Maynard | @ 2 | | s Charles Holmes | @ 2 |
| | s Edmund [Edward] Gillett | @ 2 | | s Samuel Wheeler | |
| | s Simeon Wright | @ 2 | | s | |
| | s James Boyden | @ 2 | | s James Boydens | |
| | s Curtiss [Curtis] Hodges | @ 2 | | s Edmund Gillett | |
| | s Joseph Smith Jun | @ 2 | | s Simeon Wright | @ 2 |
| | s | @ 2 | | | @ 1 |
| | s Irvin Hodges | @ 2 | | s | |
| | s | @ 2 | | | |
| | s | @ 2 | | | |
| | s | @ 2 | | | |
| | s Mrs— Waite [Sarah Wait] | @ 2 | | | |
| | s Mary Copley | @ 2 | | | |
| | s | @ 2 | | | |
[p. 110]
on the Complaint of J. Smith Jnr vs
| | | | | | |
| --- | --- | --- | --- | --- | --- |
| | Plaintiffs Witnesses | | | Defendants Witnesses | |
| 1834 | s | @ 2 | 1834 | s Harvey Smith | |
| Mar T. | s Solomon Webster | @ 2 | Mar T | s | |
| | s John P. Markill [Markell] | @ 2 | | s — | @ 2 |
| | s Jothams Jotham Maynard | @ 2 | | s Charles Holmes | @ 2 |
| | s Edmund Edward Gillett | @ 2 | | s Samuel Wheeler | |
| | s Simeon Wright | @ 2 | | | |
| | s James Boyden | @ 2 | | | |
| | s Curtiss Curtis Hodges | @ 2 | | | |
| | s Joseph Smith Jun | @ 2 | | | @ 2 |
| | s | @ 2 | | | @ 1 |
| | s Irvin Hodges | @ 2 | | s | |
| | s | @ 2 | | | |
| | s | @ 2 | | | |
| | s | @ 2 | | | |
| | s Mrs— Waite [Sarah Wait] | @ 2 | | | |
| | s Mary Copley | @ 2 | | | |
| | s | @ 2 | | | |
[p. 110]