Home

>

Documents, Volume 11: September 1842–February 1843
Documents, Volume 11: September 1842–February 1843

Purchase: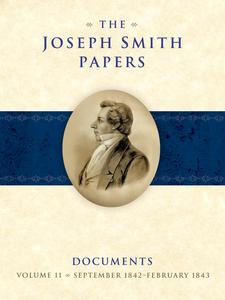 The eleventh volume in the Documents series, published in October 2020, features 105 letters, sermon accounts, poems, legal records, and other documents from September 1842 through February 1843. In this trying period, Joseph Smith continued to lead the church and the city government of Nauvoo as opponents sought his arrest and extradition to Missouri.
Volume Editors
Spencer W. McBride, Jeffrey D. Mahas, and Brett D. Dowdle are historians for the Church History Department, The Church of Jesus Christ of Latter-day Saints. Tyson Reeder is an assistant editor with the Papers of James Madison at the University of Virginia.
Additional Content
Volume Maps
Video
About This Volume
The six months between September 1842 and February 1843 were a tempestuous time for Joseph Smith and the Church of Jesus Christ of Latter-day Saints. Still reeling from the disaffection of John C. Bennett—once a rising star in the church—Smith and the Saints now faced a firestorm caused by accusations that Bennett had first published in an Illinois newspaper in summer 1842. These allegations would shape many aspects of Joseph Smith's life in the months to come.
Bennett publicized the claim that Joseph Smith was an accessory to the attempted assassination of former Missouri governor Lilburn W. Boggs. On 20 July 1842, days after Bennett published this accusation, Boggs swore an affidavit against Smith, leading the then-current governor of Missouri to demand that Illinois authorities apprehend Smith and return him to Missouri to face justice. Fearing for his life if he was arrested, Joseph Smith began a pattern of going into and coming out of hiding, often finding refuge in the homes of friends.
For much of the period covered by this volume, Joseph Smith was absorbed in avoiding extradition, and he and his associates persistently sought legal aid from government leaders. Their efforts culminated in a habeas corpus hearing that took place in federal court in Springfield, Illinois, in January 1843. The presiding judge ruled that the charges against Smith failed to prove that he should be extradited, and he was later released from state custody. Even though rumors circulated that Missouri officials might not relent in their efforts to extradite Smith, he and the Saints viewed the ruling as a major legal victory and celebrated by composing songs and holding parties in Smith's honor.
Despite his preoccupation with his extradition case, Joseph Smith continued to attend to his many ecclesiastical and civic responsibilities. While trying to avoid arrest, he sent two letters to the Saints about the importance of precisely recording proxy baptisms for the dead that church members performed. He also continued to serve (until mid-October) as editor of the church newspaper in Nauvoo, Illinois, the Times and Seasons, and to attend to church business. Following his extradition hearing in January 1843, he resumed his practice of regularly speaking to the Saints on religious matters. That month and the next, he delivered several sermons in his home and in the unfinished Nauvoo temple on its temporary floor.
In the February 1843 general election, Smith was elected mayor of Nauvoo, running unopposed—he had already been serving in that office since May 1842 by appointment from the city council. As mayor, he continued to work with the city council to address various municipal challenges and helped pass ordinances designed to resolve issues stemming from Nauvoo's exploding population. He also presided over, testified in, and initiated trials against several individuals accused of violating Nauvoo's religious and legal codes.
The texts presented here make this volume an invaluable resource for those studying this period of Latter-day Saint history and the leader who strived to direct a burgeoning city and growing church amid trying circumstances.
Excerpts
Words of Encouragement Written While in Hiding to Avoid Arrest
Letter to the Church, 7 September 1842
"Brethren, shall we not go on in so great a cause Go forward and not backward. Courage brethren; and on—on to the victory. Let your hearts rejoice and be exceeding glad. Let the earth break forth into singing. Let the dead speak forth anthems of eternal praise to the king Immanuel; who hath ordained before the world was that which would enable us to redeem them out of their prisons; for the prisoner shall go free. . . . Let us therefore, as a church and a people, and as Latter Day saints, offer unto the Lord an offering in righteousness. And let us, present in his Holy Temple when it is finished, a book, containing the Records of our dead, which shall be worthy of all acceptation."
Comments on Failed Attempt to Extradite Joseph Smith to Missouri
Letter to Justin Butterfield, 16 January 1843
"When it was understood that justice had once more triumphed over oppression, and the innocent been rescued from the power of mobocracy gladness filled the hearts of the citizens of Nauvoo, and gratitude to those who had so nobly and manfully defended the cause of justice and innocence was universally manifest, and of course I rejoiced with them and felt like a free man at home."
Reviews
"This volume gives us a glimpse of a busy period in Nauvoo and of the prophet Joseph Smith's life during the six months it covers. An interested reader could easily spend hours engrossed in its various documents, and it should prove invaluable to scholars. As with the other volumes in the series, the detailed footnotes, introductions, and other material alongside the documents make the printed book very much worth having."
—Trevor Holyoak, "Book Review: The Joseph Smith Papers, Documents, Volume 11: September 1842 – February 1843," FairMormon (blog), 19 Oct. 2020, https://www.fairmormon.org/blog/2020/10/19/book-review-the-joseph-smith-papers-documents-volume-11-september-1842-february-1843
"This new volume of the Documents series . . . offers valuable insight into Joseph Smith's life for both average Latter-day Saints and professional historians . . . This volume is especially relevant for scholars interested in the political system of Nauvoo and Joseph's political and legal behavior during this time . . . [Brett D.] Dowdle emphasizes that 'Church members will appreciate the evidence that Joseph and the Saints in Nauvoo were constantly exerting effort to make things work' even when they came up short, made mistakes, or faced opposition and setbacks."
—Stephen Smoot, "Review: New Joseph Smith Papers Volume Illuminates Turbulent Period in Joseph Smith's Life," Book of Mormon Central (blog), 22 Oct. 2020, https://bookofmormoncentral.org/blog/review-new-joseph-smith-papers-volume-illuminates-turbulent-period-in-joseph-smith-s-life