Home

>

Histories, Volume 2: Assigned Histories, 1831–1847
Histories, Volume 2: Assigned Histories, 1831–1847

Purchase: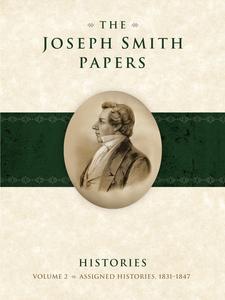 Volume 2 of the Histories series, published in 2012, presents four histories written by church historians by assignment from Joseph Smith. The volume includes works by two men, John Whitmer and John Corrill, who both distanced themselves from the church before finishing their histories. Also found in volume 2 are two histories published in Latter-day Saint newspapers, William W. Phelps's "Rise and Progress of the Church of Christ" and the Times and Seasons series "A History, of the Persecution, of the Church of Jesus Christ, of Latter Day Saints, in Missouri." Together these histories provide a rich, multifaceted view of the early years of the Latter-day Saint movement, particularly the "Mormon War" of 1838. ISBN-13: 978-1-60908-945-0
Volume Editors
Karen Lynn Davidson is a former member of the English faculty and director of the honors program at Brigham Young University. Richard L. Jensen is a senior historian for the Church History Department, The Church of Jesus Christ of Latter-day Saints, and recent president of the Mormon History Association. David J. Whittaker was curator of nineteenth-century western and Latter-day Saint manuscripts, L. Tom Perry Special Collections, Harold B. Lee Library; and associate professor of history, Brigham Young University.
Additional Content
Volume Maps
Video
About This Volume
Some of the most important documents Joseph Smith produced were narrative histories of his life and of the church he founded. Volume 1 of the Histories series of The Joseph Smith Papers presented the histories he himself created or supervised. In addition, he assigned associates, including John Whitmer, William W. Phelps, John Corrill, and Edward Partridge, to write church histories. Each was an eyewitness of early church events, and each took pen in hand to give his own perspective of the Latter-day Saints' story. Their writings—vivid, personal, and sometimes surprising—are found in this second volume of the Histories series.
In 1831, when Joseph Smith asked John Whitmer to keep a history, Whitmer's reply was "I would rather not do it." After a revelation appointed him to "keep the church record and history continually," Whitmer agreed to undertake the responsibility and worked periodically on the project for more than fifteen years. Whitmer's history weaves together copies of important letters, revelations, petitions, and other documents with his own narrative, which includes accounts of events described nowhere else. In March 1838, amid accusations of disloyalty and financial wrongdoing, he was excommunicated. He continued to add to his history until after Joseph Smith's death, now openly critical of the Latter-day Saints and their leaders.
William W. Phelps, editor of the Latter-day Saint newspaper The Evening and the Morning Star, was aware of the many unfavorable press reports about the "Mormons" that appeared in the newspapers of the day, and he found them all "in a greater or less degree . . . untrue." When Joseph Smith asked him in January 1833 to "render the Star as interesting as possible by setting forth the rise progress and faith of the church," he welcomed the opportunity not only to summarize the progress of his religion but also to "correct as many falsehoods as we could." His short history appeared in the Star three months later.
Apparently in an effort to replace John Whitmer as church historian, the Missouri high council appointed John Corrill in April 1838 to "write and keep the Church history." Within a few months, increasingly uncomfortable with efforts to intimidate dissenters and with church leaders' exercise of power, Corrill distanced himself from the Saints. The history he published became personal as well as institutional, laying out "the reasons of the author for leaving the church." Like Whitmer's history, Corrill's gives readers a better understanding of the anxieties and difficulties experienced by some early converts to the faith. It also offers a detailed look into the conflicts and dilemmas confronting Joseph Smith and other leaders as they worked to create a unified community of Saints.
Conflict between the Saints and their neighbors made a Zion in Missouri impossible, and Joseph Smith found himself incarcerated as his people were expelled from the state. In March 1839 he wrote a letter from prison instructing church members and "Bishop [Edward] Partridge in particular" to document the "sufferings and abuses" experienced in Missouri. In response, Partridge wrote a detailed eyewitness account that was published serially in the church's newspaper, the Times and Seasons. The series also drew on previously published accounts of the Saints' hardships.
Excerpts
Arrival of Missionaries in Ohio
John Corrill, A Brief History of the Church
In the course of two or three days, the book of Mormon, (the Golden Bible, as the people then termed it, on account of its having been translated from the Golden plates,) was presented to me for perusal. I looked at it, examined the testimony of the witnesses at the last end of it, read promiscuously a few pages, and made up my mind that it was published for speculation. In my feelings and remarks I branded the "messengers" with the title of impostors, and thought I would not trouble myself any more about them. But I shortly heard that these messengers had stopped in Kirtland, about thirty miles distant, among a society of people called Campbleites, at whose head stood elder Sidney Rigden [Rigdon], a noted preacher of that order. With this news I was at first much pleased; for, from my former acquaintance with that society, I knew that they were well versed in the Scriptures, and I supposed that, without fail, they would confound the impostors, convince them of their folly, and send them home again. But, to my astonishment, in a short time I heard that they had converted the majority of the society, together with Elder Rigden, to their faith. What does this mean, thought I? Are Elder Rigden and these men such fools as to be so duped by those impostors?
Expulsion of Latter-day Saints from Jackson County, Missouri
[Edward Partridge], "A History, of the Persecution," Times and Seasons, January 1840
Mobs, well lined with whiskey, as these were, looking and acting worse than savages, were well calculated to frighten women and children; which they effectually did in some cases.— One settlement were so frightened, that a party of from 130 to 150, women and children, with only six men to protect them, not waiting the return of their husbands and fathers, left their homes forthwith on foot, without taking any of their things, and wandered off south, upon the prairie a number of days under the broad canopy of heaven, not knowing which way the church was intending to go. The stubs of the newly burnt grass, and weeds, were so hard that they cut the feet of the children, who had no shoes, so that many of them became very sore, and bled profusely.
Reviews
"The opportunity in these volumes to understand Smith and his earliest adherents on their own terms, in their own words, and in their own times is unprecedented and will be of great benefit not only to rank-and-file members of the LDS Church . . . but also to scholars of Mormonism and historians of American religion."
—Kenneth P. Minkema, Journal of American History 100 (Sept. 2013): 508–509.
"The juxtaposition of H2's documents provides a lesson in contrasting perspective, a key for historians, but hopefully also a key for everyone. . . . The divergent perspectives of the authors is Histories 2's greatest strength. Both professional historians and interested observers will benefit from their use."
—J. Stapley, "Review: JSPP, Histories, Volume 2: Assigned Histories, 1831–1847," By Common Consent (blog), 21 July 2013, http://bycommonconsent.com/2013/07/21/review-jspp-histories-volume-2-assigned-histories-1831-1837.