Home

>

Journals, Volume 1: 1832–1839
Journals, Volume 1: 1832–1839

Purchase: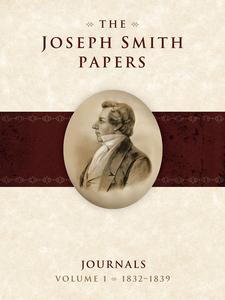 Volume 1 of the Journals series, published in 2008, features Joseph Smith's first five journals. Although later journals were exclusively kept by clerks, the initial journals included personal writings and dictation by Smith and therefore give the reader a more intimate view of his character, his private piety, and his sense of mission. The early journals also convey his perspective on the spiritual manifestations experienced in Kirtland, Ohio, the origins of the "Mormon War" in Missouri, and the founding of what would become Nauvoo, Illinois. ISBN-13: 978-1-57008-849-0
Volume Editors
Project founder Dean C. Jessee is a former historian for the Joseph Fielding Smith Institute for Latter-day Saint History at Brigham Young University. Ronald K. Esplin is managing editor of the Joseph Smith Papers Project. Richard Lyman Bushman is Howard W. Hunter Chair of Mormon Studies, Claremont Graduate University. Mark Ashurst-McGee and Richard L. Jensen are historians for the Church History Department, The Church of Jesus Christ of Latter-day Saints.
Additional Content
Volume Maps
About This Volume
The Joseph Smith Papers, comprising dozens of volumes when complete, will be the largest, most authoritative published collection of Joseph Smith documents anywhere. Although broad in scope, the Papers project has a relatively simple aim: to make available essential sources for the study of early Latter-day Saint history and of Joseph Smith—the church president and prophet, the city builder, the civic and military leader, the husband and father.
With unprecedented access to Joseph Smith texts, including many never before published, this landmark project provides new information and insights about Joseph Smith, the early history of The Church of Jesus Christ of Latter-day Saints, and nineteenth-century American religion. The documents, topically arranged into several series, include journals, correspondence, sermons, revelations, translations, histories, minutes, and legal and business records.
To locate Joseph Smith documents, experts searched significant repositories throughout the United States. Once gathered and organized, the documents are transcribed verbatim and then subjected to a rigorous, three-stage verification process that ensures accuracy. The transcripts are then published unaltered and unabridged, together with textual and contextual annotation. Detailed appendixes in the volumes provide chronologies and maps, geographical and biographical directories, and other reference materials to support the text and guide the researcher.
This inaugural volume features Joseph Smith's first five journals and reflects the beginning of Latter-day Saint record keeping in the church's earliest years. Joseph Smith began recording his first journal in 1832 in a small pocket-size book that he carried along with him during his missionary travels. Studying these personal entries gives the reader an appreciation for Smith's character, including his private piety and love for family. The work of journal keeping was soon thereafter delegated to scribes.
As with subsequent journals, Joseph Smith's second journal includes some of the earliest versions of his revelations. Most of this journal, which contains daily entries for six months beginning in late September 1835, was dictated by Smith to scribe Warren Parrish. It provides detailed accounts of meetings and other experiences leading up to and including the dedication of the Kirtland, Ohio, temple in March 1836. The final three journals in this volume, kept by scribes George W. Robinson and James Mulholland, document the origins of the "Mormon War" in Missouri and Joseph Smith's early efforts to establish a new headquarters for the church in Commerce (later Nauvoo), Illinois.
Two forthcoming volumes in the Journals series will feature Joseph Smith's lengthy Nauvoo journals, kept primarily by scribes Willard Richards and William Clayton. These journals, covering almost every day of Smith's life from mid-December 1841 to his murder in June 1844, report his activities and discourses as he administered the affairs of a growing church and introduced new religious doctrines while also serving as city mayor and head of the militia.
The Joseph Smith Papers Project follows the highest standards of documentary editing and has earned endorsement by the National Historical Publications and Records Commission, an agency of the National Archives of the United States.
Reviews
"Readers need not raise a skeptical eyebrow when they see this edition is produced by LDS members and printed by an LDS press. While this project is meant in part to be a resource for its own constituency, there is an impartiality and professionalism here in the tone, subjects, and sources that bode well for this series and edition as a reliable resource for all."
—Kenneth P. Minkema, Documentary Editing 31 (2010): 120–122.
"The transcription practices of the project are excellent and are carefully explained in the volume's front matter. The editors preserve the exact language, spelling, and punctuation of the original journals. . . . Overall, this is an excellent start to this very important addition to the history of the Latter-day Saints."
—Kenneth Stevens, Mormon Historical Studies 11, no. 2 (Fall 2010): 175–177.
"The editorial staff have gathered every available Smith document, subjected them all to a three-step verification process, and provided an extensive historical annotation without theological commentary in conjunction with an advisory board of Smith scholars. . . . In addition to extensive introductory material, the volume contains useful reference material including a chronology, maps, glossary, and essay on sources. . . . This is an extraordinary work. . . . Highly recommended."
—Daniel Liestman, Choice: Current Reviews for Academic Libraries, July 2009.
Journals, Volume 1 is . . . massive in its scope and a welcome addition to historical documents in the study of the history and scriptures of the Latter-day Saints. . . . [It] is a beautifully bound volume with high-quality paper. The typeface is easy to read. The book is a significant improvement in historiography of Joseph Smith. This is scholarly work but simple enough for a general audience. The editors should be proud of their work. I recommend the book."
—H. Michael Marquardt, Journal of Mormon History 35, no. 4 (2009): 233–239.
"Both LDS and non-LDS scholars, in short, will wish to use this and future volumes produced by the Joseph Smith Papers. Though the editors acknowledge being LDS adherents, they have done their work according to the modern standards of documentary editing and are at no point guilty of preparing or presenting their texts in tendentious ways. . . . All in all, the volume is an impressive achievement, and it is to be hoped that future volumes in the Joseph Smith Papers Project will match its quality of scholarship."
—Thomas Coens, BYU Studies 48, no. 3 (2009): 148–151, https://byustudies.byu.edu/content/joseph-smith-papers-journals-volume-1-1832-1839.
[Journals, Volume 1] contains generous background information, abundant annotations (recommending a variety of primary and secondary sources), illustrations, and maps. . . . These volumes—may I live to see the release of the entire series—will be indispensable for the next generation of scholars on Mormon history."
—John Turner, "Joseph Smith Papers," Religion in American History (blog), 23 Jan. 2009, http://usreligion.blogspot.com/2009/01/joseph-smith-papers.html.
"This first volume in the upcoming . . . series is a monumental achievement in so many ways. It provides both content and context—it relates what Joseph wrote, and gives the modern reader a glimpse at what was going on around him. And, in many ways, it represents a major step in Mormonism's emergence into the light of the 21st century. . . . This volume, and, I suspect, the ones that will follow, will constitute one of the greatest contributions to the lore of Mormonism's founder that we've seen in some time."
—Jeff Needle, "The Joseph Smith Papers: Journals, Vol. 1: 1832–1839," LDS Book Lovers, 10 Jan. 2009, http://www.ldsbooklovers.com/bookreview.asp?rid=207&bid=2414&pid=0.
"Certainly no better transcription of Joseph Smith's journals will ever be made. . . . The editors have an obvious command of the relevant literature. . . . [The online index] is, without question, the best index for any publication I have ever seen, let alone for Mormon Studies. . . . This is the finest edition of Mormon primary documents ever produced. It sets a new standard in transcription, editing and production that will be hard to match."
—J. Stapley, "Review: Journals, Volume 1: 1832–1839 of The Joseph Smith Papers," By Common Consent, 1 Jan. 2009, https://bycommonconsent.com/2009/01/01/review-journals-volume-1-1832-1839-of-the-joseph-smith-papers/.
Advance Acclaim
"Joseph Smith has been one of the least accessible major figures in the history of American religion. The Joseph Smith Papers will forever change that by producing a monumental critical edition of every document written, dictated, or supervised by the Mormon prophet. This first offering, Journals, Volume 1: 1832–1839, already gives readers and researchers a fascinating glimpse of a new Joseph Smith. Its five texts depict a gifted young leader struggling to guide his unruly new religious movement on two fronts. As he labored to organize The Church of Jesus Christ of Latter-day Saints at Kirtland, Ohio, and sought to establish God's new Zion in hostile Missouri, Smith served as itinerant preacher, fund-raiser, farmer, construction supervisor, disciplinarian, litigant, commander, prisoner, and loyal family member as well as visionary, healer, and revelator. All of these roles come vividly to life in these manuscript journals, meticulously edited according to the highest critical standards. Journals, Volume 1 is a splendid debut for what is certain to become one of the great landmarks in LDS publishing and scholarship."
— Stephen A. Marini, Professor of Religion, Wellesley College
"The early years of the twenty-first century are seeing the study of Mormonism come of age. Consequently, primary sources that permit beginning students and veteran scholars to examine the reality Latter-day Saints experienced are much in demand. The Joseph Smith papers are absolutely central to understanding and interpreting what happened. The appearance of this first volume of the prophet's papers, the 1832–1839 journals—meticulously edited by highly respected scholars and accompanied by valuable introductory materials, exhaustive notes, chronology, and maps, plus geographical and biographical directories—is welcome indeed. Replacing and going far beyond the History of the Church, edited by B. H. Roberts in the early years of the last century, it truly inaugurates this new era in Mormon studies."
— Jan Shipps, Professor Emerita, History and Religious Studies, Indiana University–Purdue University