Home

>
Affidavit, 10 January 1839 [Boosinger v. O. Cowdery et al.]
Source Note

Asa D. Brasher, Affidavit, before , [], Caldwell Co., MO, 10 Jan. 1839,

Boosinger v. O. Cowdery et al.

(Caldwell Co., MO, Circuit Court 1839). Copied 8 Jan. 1842 in Transcript of Proceedings, 2, 11–12; handwriting of Elliot Roberts; certified by , 10 Jan. 1839; certified by Elliot Roberts, 8 Jan. 1842; certified by , 28 Feb. 1842; Letters Related to George Boosinger, Huntington Library, San Marino, CA. Includes seal.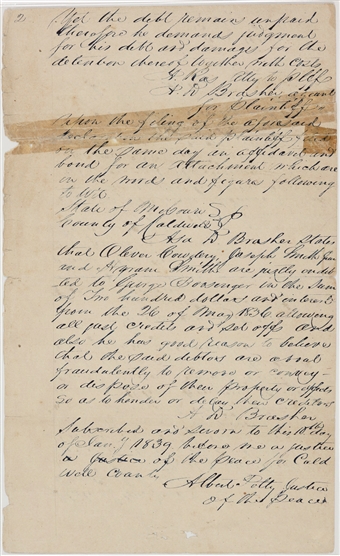 State of Missouri)
Ss [scilicet]
County of )
Asa D. Brasher states that , Joseph Smith Jun and are justly endebted to in the sum of Two hundred dollars and interest from the 26 of May 1836 allowing all just credits and set offs and also he has good reason to believe that the said debtors are about fraudulently to remove or convey— or dispose of their property or effects so as to hinder or delay their creditors
A. D. Brasher
Subscribed and sworn to this 10
th
day of Jan
y.
1839. before me a justice
a Justice
of the peace for
Justice of the Peace [p. 2]
State of Missouri)
Ss [scilicet]
County of )
Asa D. Brasher states that , Joseph Smith Jun and are justly endebted to in the sum of Two hundred dollars and interest from the 26 of May 1836 allowing all just credits and set offs and also he has good reason to believe that the said debtors are about fraudulently to remove or convey— or dispose of their property or effects so as to hinder or delay their creditors
A. D. Brasher
Subscribed and sworn to this 10th day of Jany. 1839. before me a justice of the peace for
Justice of the Peace [p. 2]