Home

>
Agreement with Hugh Rhodes, 19 May 1843
Source Note

Hugh Rhodes, Agreement, Knox Co., IL, with , agent, on behalf of JS as Trustee-in-Trust, , IL, 19 May 1843; handwriting of ; signature of Hugh Rhodes; witnessed by Henry J. Rhodes; docket in handwriting of ; one page; JS Collection, CHL.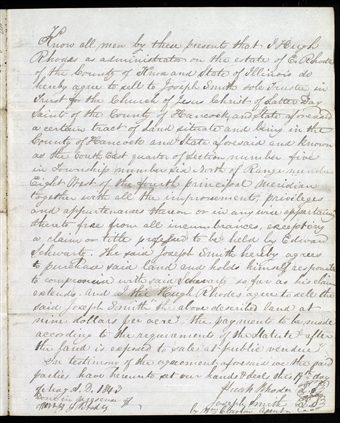 Know all men by these presents that I Hugh Rhodes as administrator on the estate of E[rie] Rhodes of the County of Knox and State of do hereby agree to sell to Joseph Smith sole Trustee in Trust for the Church of Jesus Christ of Latter Day Saints of the County of , and aforesaid a certain tract of Land situate and being in the County of and aforesaid and known as the South East quarter of Section number five in Township number six North of Range number Eight West of the fourth principal meridian together with all the improvements, privileges and appurtenances thereon or in any wise appertaining thereto free from all incumbrances, excepting a claim or title professed to be held by Edward Schwartz. The said Joseph Smith hereby agrees to purchase said land and hold himself responsible to compromise with said Schwartz so far as his claim extends . And I the <​said​> Hugh Rhodes agree to sell the said Joseph Smith the above described land at nine dollars per acre, the payments to be made according to the requirements of the Statute after the land is exposed to sale at public vendue
In testimony of the agreement aforesaid we the said parties have hereunto set our hands & seals this 19
th

.
day of May A. D. 1843
Hugh Rhodes L. S
Joseph Smith L. S
by Agent
Done in presense of
Henry J Rhodes [p. [1]]
Know all men by these presents that I Hugh Rhodes as administrator on the estate of Erie Rhodes of the County of Knox and State of do hereby agree to sell to Joseph Smith sole Trustee in Trust for the Church of Jesus Christ of Latter Day Saints of the County of , and aforesaid a certain tract of Land situate and being in the County of and aforesaid and known as the South East quarter of Section number five in Township number six North of Range number Eight West of the fourth principal meridian together with all the improvements, privileges and appurtenances thereon or in any wise appertaining thereto free from all incumbrances, excepting a claim or title professed to be held by Edward Schwartz. The said Joseph Smith hereby agrees to purchase said land and hold himself responsible to compromise with said Schwartz so far as his claim extends . And I the said Hugh Rhodes agree to sell the said Joseph Smith the above described land at nine dollars per acre, the payments to be made according to the requirements of the Statute after the land is exposed to sale at public vendue
In testimony of the agreement aforesaid we the said parties have hereunto set our hands & seals this 19
th
. day of May A. D. 1843
Hugh Rhodes L. S
Joseph Smith L. S
by Agent
Done in presense of
Henry J Rhodes [p. [1]]