Home

>
Council of Fifty, Minutes, March 1844–January 1846; Volume 2, 1 March–6 May 1845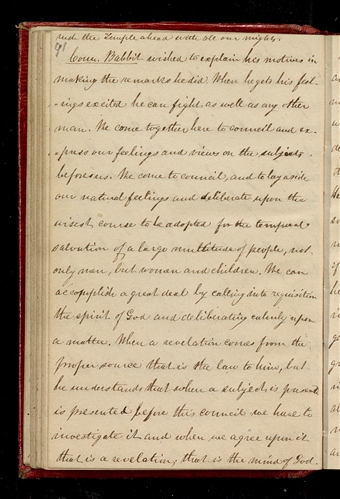 rush the ahead with all our mights.
wished to explain his motives in making the remarks he did. When he gets his feelings excited he can fight as well as any other man. We come together here to council and express our feelings and views on the subjects befores us. We come to council, and to lay aside our natural feelings and deliberate upon the wisest course to be adopted for the temporal salvation of a large multitude of people, not only men, but women and children. We can accomplish a great deal by calling into requisition the spirit of God and deliberating calmly upon a matter. When a revelation comes from the that is the law to him, but he understands that when a subject is presented is presented before this council we have to investigate it and when we agree upon it that is a revelation; that is the mind of God. [p. [97]]
rush the ahead with all our mights.
wished to explain his motives in making the remarks he did. When he gets his feelings excited he can fight as well as any other man. We come together here to council and express our feelings and views on the subjects befores us. We come to council, and to lay aside our natural feelings and deliberate upon the wisest course to be adopted for the temporal salvation of a large multitude of people, not only men, but women and children. We can accomplish a great deal by calling into requisition the spirit of God and deliberating calmly upon a matter. When a revelation comes from the that is the law to him, but he understands that when a subject is presented is presented before this council we have to investigate it and when we agree upon it that is a revelation; that is the mind of God. [p. [97]]