Home

>
Declaration, circa 18 April 1842, Copy [Sweeney v. Miller et al.]
Source Note

Guy C. Sampson on behalf of Hugh J. Sweeney, Declaration, , IL, [ca. 18 Apr. 1842],

Sweeney v. Miller et al.

(Hancock Co., IL, Circuit Court 1842). Copied [15 Aug. 1842] in M. Avise on behalf of Jacob Davis, , to Hancock Co. Sheriff, pp. [1]–[2]; handwriting of ; microfilm in Circuit Court Case Files, 1830–1900, CHL.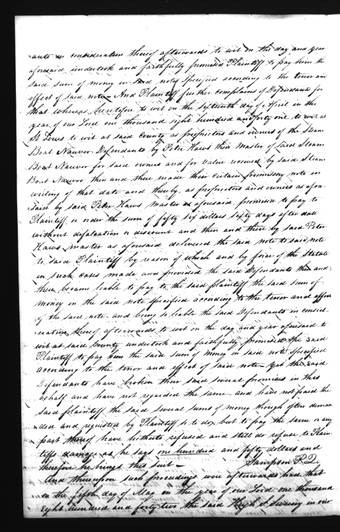 ants in consideration thereof afterwards to wit on the day and year aforesaid undertook and faithfully promised Plaintiff to pay him the said sum of money in said notes specified according to the tenor and effect of said note— And Plaintiff further complains of Defendants for that whereas heretofore to wit on the sixteenth day of April in the year of our Lord one thousand eight hundred and forty one to wit at to wit at said county as proprietors and owners of the Steam Boat Nauvoo Defendants by then master of said Steam Boat Nauvoo for said owners and for value received by said Steam Boat Nauvoo then and there made their certain promissory note in writing of that date and thereby, as proprietors and owners as aforesaid by said master as aforesaid, promised to pay to Plaintiff or order the sum of fifty six dollars sixty days after date without defalcation or discount and then and there by said master as aforesaid delivered the said note to said note to said Plaintiff by reason of which and by force of the statutein such cases made and provided the said Defendants then and there became liable to pay to the said plaintiff the said sum of money in the said note specified according to the tenor and effect of the said note— and being so liable the said Defendants in consideration thereof afterwards to wit on the day and year aforesaid to wit at said County undertook and faithfully promised the said Plaintiff to pay him the said sum of money in said note specified according to the tenor and effect of said note— yet the said Defendants have broken their said several promises in this behalf and have not regarded the same— and have not paid the said plaintiff the said several sums of money though often demanded and requested by Plaintiff so to do but to pay the same or any part thereof have hitherto refused and still do refuse to Plaintiffs damage as he says
one hundred
and fifty dollars and therefore he brings this suit—
[Guy C.] Sampson P. Q. [] [p. [2]]
ants in consideration thereof afterwards to wit on the day and year aforesaid undertook and faithfully promised Plaintiff to pay him the said sum of money in said notes specified according to the tenor and effect of said note— And Plaintiff further complains of Defendants for that whereas heretofore to wit on the sixteenth day of April in the year of our Lord one thousand eight hundred and forty one to wit at to wit at said county as proprietors and owners of the Steam Boat Nauvoo Defendants by then master of said Steam Boat Nauvoo for said owners and for value received by said Steam Boat Nauvoo then and there made their certain promissory note in writing of that date and thereby, as proprietors and owners as aforesaid by said master as aforesaid, promised to pay to Plaintiff or order the sum of fifty six dollars sixty days after date without defalcation or discount and then and there by said master as aforesaid delivered the said note to said note to said Plaintiff by reason of which and by force of the statutein such cases made and provided the said Defendants then and there became liable to pay to the said plaintiff the said sum of money in the said note specified according to the tenor and effect of the said note— and being so liable the said Defendants in consideration thereof afterwards to wit on the day and year aforesaid to wit at said County undertook and faithfully promised the said Plaintiff to pay him the said sum of money in said note specified according to the tenor and effect of said note— yet the said Defendants have broken their said several promises in this behalf and have not regarded the same— and have not paid the said plaintiff the said several sums of money though often demanded and requested by Plaintiff so to do but to pay the same or any part thereof have hitherto refused and still do refuse to Plaintiffs damage as he says
one hundred
and fifty dollars and therefore he brings this suit—
[Guy C.] Sampson P. Q. [] [p. [2]]