Home

>
Deed, Oliver and Lydia Dibble Granger to William Perkins, 20 September 1838
Source Note

and , Deed for property in , Geauga Co., OH, to , 20 Sept. 1838. Version copied 18 May 1839 in Geauga County Deed Record, vol. 30, pp. 36–37; handwriting of William Kerr; witnessed by Charles B. Smythe and ; certified by Charles B. Smythe; Geauga County Archives and Records Center, Chardon, OH; microfilm at FHL.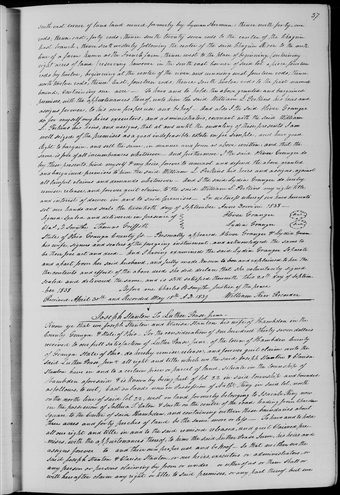 south east corner of land land owned formerly by ; thence north forty-one rods; thence east, forty rods; thence south twenty seven rods to the center of the Chagrin East branch; thence south westerly following the center of the said Chagrin River to the north line of a farm known as the , thence west to the place of beginning, Containing eight acres of land (reserving however in the south east Corner of said lot a piece of fourteen rods by twelve, beginning at the center of the river, and running west fourteen rods; thence north twelve rods, thence East, fourteen rods; thence south twelve rods to the first named bound, Containing one acre— To have and to hold the above granted and bargained premises, with the appurtenances thereof, unto him the said his heirs and assigns forever, to his own proper use and behoof— And also I the said do for myself my heirs executors, and administrators, covenant with the said his heirs, and assigns, that at and until the ensealing of these presents I am well seized of the premises as a good indefeasible estate in fee simple, and have good Right to bargain, and sell the same, in manner and form as above written; and that the same is free of all incumbrances whatsoever— And furthermore I the said do by these presents, bind myself & my heirs, forever to warrant and defend the above granted and bargained premises to him the said his heirs and assigns, against all lawful claims and demands whatsoever— And I the said do hereby remise, release, and forever , to the said my right Title and interest of dower in and to said premises— In witness where of we have hereunto set our hands and seals the twentieth day of September Anno Domini 1838—
Seal
Seal
Signed Sealed and delivered in the presence of
State of Ohio ss. [scilicet]— Personally appeared & his wife, signers and sealers of the foregoing instrument, and acknowledge the same to be their free act and deed— And I having examined the said Separate and apart from her said , and fully made known
to her
and explained to her the the contents and effect of the above deed she did declare that she voluntarily signed sealed and delivered the same, and is still satisfied therewith this 20
th.
day of September 1838
Before me Charles B. Smythe Justice of the Peace
Received April 30
th.
and Recorded May 18
th.
A.D. 1839 William Kerr Recorder [p. 37]
south east corner of land land owned formerly by ; thence north forty-one rods; thence east, forty rods; thence south twenty seven rods to the center of the Chagrin East branch; thence south westerly following the center of the said Chagrin River to the north line of a farm known as the , thence west to the place of beginning, Containing eight acres of land (reserving however in the south east Corner of said lot a piece of fourteen rods by twelve, beginning at the center of the river, and running west fourteen rods; thence north twelve rods, thence East, fourteen rods; thence south twelve rods to the first named bound, Containing one acre— To have and to hold the above granted and bargained premises, with the appurtenances thereof, unto him the said his heirs and assigns forever, to his own proper use and behoof— And also I the said do for myself my heirs executors, and administrators, covenant with the said his heirs, and assigns, that at and until the ensealing of these presents I am well seized of the premises as a good indefeasible estate in fee simple, and have good Right to bargain, and sell the same, in manner and form as above written; and that the same is free of all incumbrances whatsoever— And furthermore I the said do by these presents, bind myself & my heirs, forever to warrant and defend the above granted and bargained premises to him the said his heirs and assigns, against all lawful claims and demands whatsoever— And I the said do hereby remise, release, and forever , to the said my right Title and interest of dower in and to said premises— In witness where of we have hereunto set our hands and seals the twentieth day of September Anno Domini 1838—
Seal
Seal
Signed Sealed and delivered in the presence of
Chas. B. Smythe
State of Ohio ss. [scilicet]— Personally appeared & his wife, signers and sealers of the foregoing instrument, and acknowledge the same to be their free act and deed— And I having examined the said Separate and apart from her said , and fully made known and explained to her the the contents and effect of the above deed she did declare that she voluntarily signed sealed and delivered the same, and is still satisfied therewith this 20th. day of September 1838
Before me Charles B. Smythe Justice of the Peace
Received April 30th. and Recorded May 18th. A.D. 1839 William Kerr Recorder [p. 37]