Home

>
Deed to Parley P. Pratt, 10 February 1843
Source Note

JS as trustee-in-trust for the Church of Jesus Christ of Latter-day Saints, Deed for property in , Hancock Co., IL, to , 10 Feb. 1843; printed form with manuscript additions in handwriting of ; signature of JS; witnessed by ; certified by , 10 Feb. 1843; certified by on behalf of JS, 10 Feb. 1843; docket and notations in handwriting of ; one page; Parley P. Pratt, Collection, CHL.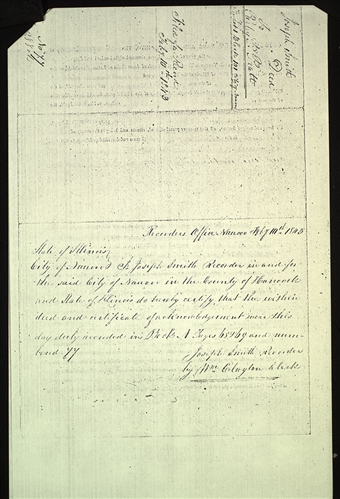 Recorders Office Feb
y
10
th.
1843
State of Illinois)
City of )
I Joseph Smith Recorder in and for the said City of in the County of and State of do hereby certify that the within deed and certificate of acknowledgement were this day duly recorded in Book A Pages 68 & 69 and numbered 77
Joseph Smith Recorder
by Clerk
Joseph Smith
Deed To For Lot 1 Block 101 City of
Filed for Record Feb
y
10
th.
1843
No 77
Recorders Office Feby 10th. 1843
State of Illinois)
City of )
I Joseph Smith Recorder in and for the said City of in the County of and State of do hereby certify that the within deed and certificate of acknowledgement were this day duly recorded in Book A Pages 68 & 69 and numbered 77
Joseph Smith Recorder
by Clerk
Joseph Smith
Deed To For Lot 1 Block 101 City of
Filed for Record Feby 10th. 1843
No 77
0,88 cts