Home

>
Discourse, 5 January 1841, as Reported by William Clayton
Source Note

JS, Discourse, , Hancock Co., IL, 5 Jan. 1841. Featured version from report copied [1880] in L. John Nuttall, Notebook, pp. 4–8; handwriting of L. John Nuttall; L. John Nuttall, Papers, BYU. For more complete source information, see the source note for

Discourse, Dec. 1840, as Reported by William Clayton

.

Historical Introduction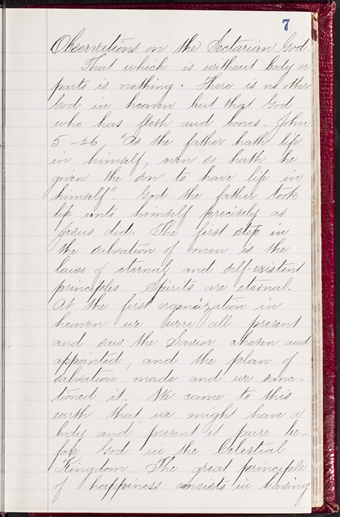 Observations on the Sectarian God.
That which is without body or parts is nothing. There is no other God in heaven but that God who has flesh and bones. John 5— 26, "As the father hath life in himself, even so hath he given the son to have life in himself." God the father took life unto himself precisely as Jesus did. The first step in the salvation of men is the laws of eternal and self-existent principles. Spirits are eternal. At the first organization in heaven we were all present and saw the Savior chosen and appointed, and the plan of salvation made and we sanctioned it. We came to this earth that we might have a body and present it pure before God in the Celestial Kingdom. The great principle of happiness consists in having [p. 7]
Observations on the Sectarian God.
That which is without body or parts is nothing. There is no other God in heaven but that God who has flesh and bones. John 5— 26, "As the father hath life in himself, even so hath he given the son to have life in himself." God the father took life unto himself precisely as Jesus did. The first step in the salvation of men is the laws of eternal and self-existent principles. Spirits are eternal. At the first organization in heaven we were all present and saw the Savior chosen and appointed, and the plan of salvation made and we sanctioned it. We came to this earth that we might have a body and present it pure before God in the Celestial Kingdom. The great principle of happiness consists in having [p. 7]