Home

>
Discourse, circa May 1841, as Reported by William Clayton
Source Note

JS, Discourse, [, Hancock Co., IL, ca. May 1841]. Version from report copied [1880] in L. John Nuttall, Notebook, pp. 10–11; handwriting of L. John Nuttall; L. John Nuttall, Papers, BYU. For more complete source information, see the source note for

Discourse, Dec. 1840, as Reported by William Clayton

.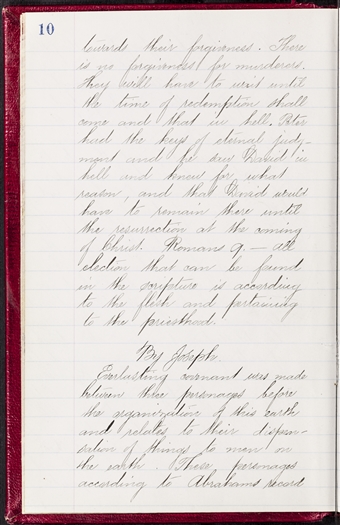 By Joseph.
Everlasting covenant was made between three personages before the organization of this earth and relates to their dispensation of things to men on the earth. These personages according to Abrahams record [p. 10]
By Joseph.
Everlasting covenant was made between three personages before the organization of this earth and relates to their dispensation of things to men on the earth. These personages according to Abrahams record [p. 10]