Home

>
Docket Entry, 5 June 1837 [Holmes v. Dayton et al.]
Source Note

Docket Entry, , Geauga Co., OH, 5 June 1837,

Holmes v. Dayton et al.

(Geauga Co., OH, Court of Common Pleas 1837); Geauga County Court of Common Pleas, Journal, vol. N, p. 190; handwriting of ; Geauga County Archives and Records Center, Chardon, OH. Transcription from a digital color image made of the original in 2011.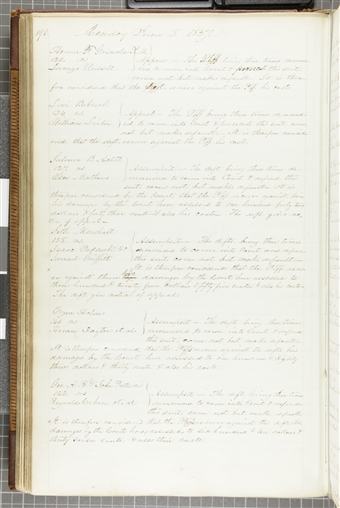 Ezra Holmes)
161. vs)
et. al)
— The def[endan]ts. being three times demanded to come into Court & defend this suit, come not but make default— It is therefore considered, that the Pl[ainti]ff<​s​> recover against the defts. his damages by the Court here assessed to one hundred & Eighty three dollars & thirty cents, & also his costs. [p. 190]
Ezra Holmes)
161. vs)
et. al)
— The defendants. being three times demanded to come into Court & defend this suit, come not but make default— It is therefore considered, that the Plaintiffs recover against the defts. his damages by the Court here assessed to one hundred & Eighty three dollars & thirty cents, & also his costs. [p. 190]