Home

>
Docket Entry, between 12 January and circa 6 February 1819 [Joseph Smith Sr. v. J. Hurlbut]
Source Note

Docket Entry, [, NY], between 12 Jan. and ca. 6 Feb. 1819,

Joseph Smith Sr. v. Hurlbut

(Ontario Co., NY, Court of Common Pleas 1819). Copied 9 Feb. 1819; handwriting of Abraham Spear; certified by Abraham Spear, 9 Feb. 1819; notation by Abraham Spear, [, NY], 9 Feb. 1819; docket by unidentified scribe, between 9 and 17 Feb. 1819; notation by unidentified scribe, 17 Feb. 1819; two pages; Ontario County Records and Archives Center, Canandaigua, NY. Transcription from a digital color image made of the original in 2011.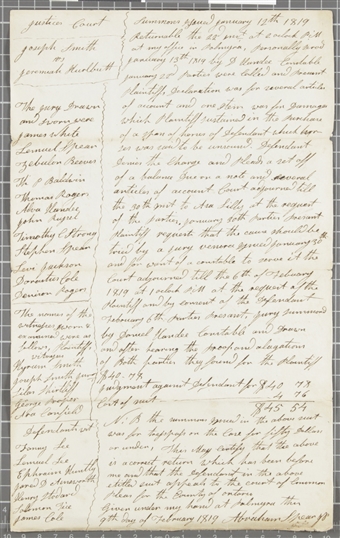 Justices Court
vs
The jury Drawn and sworn were
James White
Lemuel Spear
Zebulon Reeves
Th[omas] P Baldwin
Thomas Rogers
Alva Handee [Hendee]
John Russel[l]
Timothy C Strong
Stephen Spear
Levi Jackson
Dorastus Cole
Denison Rogers
The names of the witnesses sworn & examined were as follows, Plaintiffs witnesses
Silas Shirtliff
George Proper
Ara Canfield
Defendants wit
Fanny Lee
Lemuel Lee
Ephraim Huntl[e]y
Henry Stod[d]ard
Solomon Tice
James Cole
Summons issued January 12
th
1819
Returnable the 22
d
ins
t

.
at 2 oclock P.M at my office in , personally servd January 13
th
1819 by D Handee [Daniel Hendee] Constable January 22
d
parties were called and presant s Declaration was for several articles of account and one item was for Damages which Plaintiff sustained in the purchase of a span of horses of which horses was said to be unsound. Defendant Denies the Charge and pleads a set off of a balance Due on a note and several articles of account Court adjourned till the 30
th
inst to Asa Lilly at the request of the parties. January 30th parties presant plaintiff requests that the cause should be tried by a jury vinora issued January 30
th
and for want of a constable to serve it the Court adjourned till the 6
th
of Feb[r]uary 1819 at 1 oclock P.M at the request of the Plaintiff and by consent of the Defendant February 6
th
parties presant, Jury summond by Daniel Handee Constable and Drawn and after hearing the proof and alagation of Both parties they found for the plaintiff $40.78
Judgment against Defendant for
$40 78
Cost of suit

——

4 76

$45 54
N:B the summons issued in the above suit was for tresspass on the Case for fifty Dollars or under, This May certify that the above is a correct return which has been before me and that the Defendant in the above e[n]titled suit appeals to the court of Common Pleas for the County of
Given under my hand at this 9
th
day of February 1819
Abraham Spear JP
Justices Court
vs
The jury Drawn and sworn were
James White
Lemuel Spear
Zebulon Reeves
Thomas P Baldwin
Thomas Rogers
Alva Handee [Hendee]
John Russell
Timothy C Strong
Stephen Spear
Levi Jackson
Dorastus Cole
Denison Rogers
The names of the witnesses sworn & examined were as follows, Plaintiffs witnesses
Silas Shirtliff
George Proper
Ara Canfield
Defendants wit
Fanny Lee
Lemuel Lee
Ephraim Huntley
Henry Stoddard
Solomon Tice
James Cole
Summons issued January 12th 1819
Returnable the 22d ins
t
. at 2 oclock P.M at my office in , personally servd January 13th 1819 by D Handee [Daniel Hendee] Constable January 22d parties were called and presant s Declaration was for several articles of account and one item was for Damages which Plaintiff sustained in the purchase of a span of horses of which horses was said to be unsound. Defendant Denies the Charge and pleads a set off of a balance Due on a note and several articles of account Court adjourned till the 30th inst to Asa Lilly at the request of the parties. January 30th parties presant plaintiff requests that the cause should be tried by a jury vinora issued January 30th and for want of a constable to serve it the Court adjourned till the 6th of February 1819 at 1 oclock P.M at the request of the Plaintiff and by consent of the Defendant February 6th parties presant, Jury summond by Daniel Handee Constable and Drawn and after hearing the proof and alagation of Both parties they found for the plaintiff $40.78
Judgment against Defendant for
$40 78
Cost of suit

——

4 76

$45 54
N:B the summons issued in the above suit was for tresspass on the Case for fifty Dollars or under, This May certify that the above is a correct return which has been before me and that the Defendant in the above entitled suit appeals to the court of Common Pleas for the County of
Given under my hand at this 9th day of February 1819
Abraham Spear JP
[p. [1]]