Home

>
Docket Entry, circa 16 May 1843 [City of Nauvoo v. Davis for Slander of JS–C]
Source Note

Docket Entry, [, Hancock Co., IL], ca. 16 May 1843,

City of Nauvoo v. Davis for Slander of JS–C

(Hancock Co., IL, Circuit Court 1843); Hancock County Circuit Court, Judgment Docket, vol. B, p. 23; unidentified handwriting; Hancock County Courthouse, Carthage, IL; images in Hancock County Papers, 1830–1872, CHL.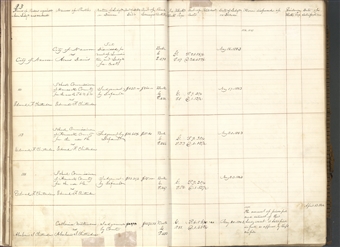 Names of Persons against whom Judg

t.

was rendered
Names of Parties
Nature of Judgt or Decree
Amt of Debt Debt
Amt of Damages
Record Book Page
Fee Book Book Page
Amt of Costs
Total Amt
Date of Judg

t

or Decree
How disposed of
Evidence Book Page
Date of Satisfaction
City of
City of vs
Suit Dismissed for want of Jurisdiction and Judgt for Costs
Book C. P. 473
G. P. 117
21.56¼ 24.43¾
May 16, 1843
1386, 1547.
[p. 23]
| | | | | | | | | | | | | |
| --- | --- | --- | --- | --- | --- | --- | --- | --- | --- | --- | --- | --- |
| Names of Persons against whom Judgt. was rendered | Names of Parties | Nature of Judgt or Decree | Amt of Debt Debt | Amt of Damages | Record Book Page | Fee Book Book Page | Amt of Costs | Total Amt | Date of Judgt or Decree | How disposed of | Evidence Book Page | Date of Satisfaction |
| City of | City of vs | Suit Dismissed for want of Jurisdiction and Judgt for Costs | | | Book C. P. 473 | G. P. 117 | 21.56¼ 24.43¾ | | May 16, 1843 | 1386, 1547. | | |
[p. 23]