Home

>
Docket Entry, circa 20 May 1844 [Bostwick v. JS and Greene]
Source Note

Docket Entry, [, Hancock Co., IL], ca. 20 May 1844,

Bostwick v. JS and Greene

(Hancock Co., IL, Circuit Court 1844); Hancock County Circuit Court, Judgment Docket, vol. B, p. 12; handwriting probably of ; Hancock County Courthouse, Carthage, IL; image in Hancock County Papers, 1830–1872, CHL.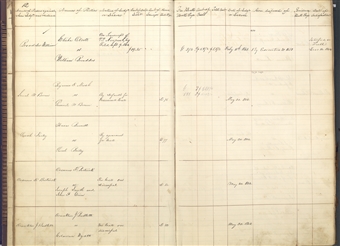 [Names of Persons against whom Judg

t.

was rendered]
[Names of Parties]
[Nature of Judg

t

or Decree]
[Amt of Debt Debt]
[Amt of Damages]
[Record Book Page]
[Fee Book Book Page]
[Amt of Costs]
[Total Amt]
[Date of Judg

t

or Decree]
[How disposed of]
[Evidence Book Page]
[Date of Satisfaction]
[. . .]
vs Joseph Smith and
For Costs on Dismissal
D. 82
May 20. 1844.
[p. 12]
| | | | | | | | | | | | | |
| --- | --- | --- | --- | --- | --- | --- | --- | --- | --- | --- | --- | --- |
| Names of Persons against whom Judgt. was rendered | [Names of Parties] | [Nature of Judgt or Decree] | [Amt of Debt Debt] | [Amt of Damages] | [Record Book Page] | [Fee Book Book Page] | [Amt of Costs] | [Total Amt] | [Date of Judgt or Decree] | [How disposed of] | [Evidence Book Page] | [Date of Satisfaction] |
| [. . .] | | | | | | | | | | | | |
| | vs Joseph Smith and | For Costs on Dismissal | | | D. 82 | | | | May 20. 1844. | | | |
[p. 12]