Home

>
Docket Entry, Dismissal, Order of Publication, and Continuance, 9 July 1839 [Boosinger v. JS et al.]
Source Note

Docket Entry, Dismissal, Order of Publication, and Continuance, [, Caldwell Co., MO], [9 July 1839],

Boosinger v. JS et al.

(Caldwell Co., MO, Circuit Court 1839). Copied 8 Jan. 1842 in Transcript of Proceedings, 7–8, 12; handwriting of Elliot Roberts; certified by Elliot Roberts, 8 Jan. 1842; certified by , 28 Feb. 1842; Letters Related to George Boosinger, Huntington Library, San Marino, CA. Includes seal.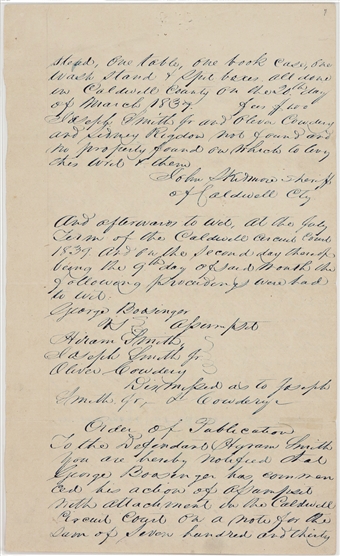 | | |
| --- | --- |
| ) | |
| vs) | |
| ,) | |
| Joseph Smith Jr.) | |
| ) | |
Dismissed as to Joseph Smith Jr. & —
Order of Publication
To the Defendant you are hereby notified that has commenced his action of assumpsit with in the Circuit Court on a note for the sum of Seven hundred and thirty [p. 7]
| | |
| --- | --- |
| ) | |
| vs) | |
| ,) | |
| Joseph Smith Jr.) | |
| ) | |
Dismissed as to Joseph Smith Jr. & —
Order of Publication
To the Defendant you are hereby notified that has commenced his action of assumpsit with in the Circuit Court on a note for the sum of Seven hundred and thirty [p. 7]