Home

>
Docket Entry, Fee Bill, between 22 March and circa 20 June 1844 [City of Nauvoo v. Davis for Slander of JS–C]
Source Note

Docket Entry, Fee Bill, [, Hancock Co., IL], [between 22 Mar. and ca. 20 June 1844],

City of Nauvoo v. Davis for Slander of JS–C

(Hancock Co., IL, Circuit Court 1843); Hancock County Circuit Court, Docket, vol. B, p. [137]; handwriting of ; Hancock County Courthouse, Carthage, IL; image in Hancock County Papers, 1830–1872, CHL.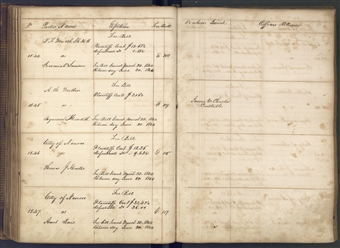 [N

o

]
[Parties Names]
[Epitome]
[Fee Book]
[To whom Issued]
[Officers Return]
[. . .]
Fee Bill
City of
s Cost $22.43¾
s D

o

26.00
1547
vs
G 117
Fee bill Issued March 22, 1844
Return day June 20, 1844
[p. [137]]
| | | | | | |
| --- | --- | --- | --- | --- | --- |
| No | [Parties Names] | [Epitome] | [Fee Book] | [To whom Issued] | [Officers Return] |
| [. . .] | | | | | |
| | | Fee Bill | | | |
| | City of | | | | |
| | | s Cost $22.43¾ | | | |
| | | s Do 26.00 | | | |
| 1547 | vs | | G 117 | | |
| | | Fee bill Issued March 22, 1844 | | | |
| | | Return day June 20, 1844 | | | |
[p. [137]]