Home

>
Docket Entry, Fee Bill, between circa 22 November 1844 and circa 20 February 1845 [Bostwick v. JS and Greene]
Source Note

Docket Entry, Fee Bill, [, Hancock Co., IL], between ca. 22 Nov. 1844 and ca. 20 Feb. 1845,

Bostwick v. JS and Greene

(Hancock Co., IL, Circuit Court 1844); Hancock County Circuit Court, Execution Docket, vol. B, p. [214]; unidentified handwriting; Hancock County Courthouse, Carthage, IL; image in Hancock County Papers, 1830–1872, CHL.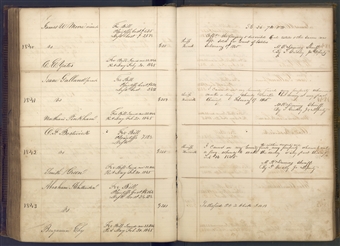 [N

o

]
[Parties Names]
[Epitome]
[Fee Book]
[To whom Issued]
[Officers Return]
[. . .]
Fee Bill Plaintiffs 7.12½ Defts
I Cannot in my find <​the within named and​> any property whereon to make a levy whereby to make the money or any part thereof Feb 14. 1845. Sheriff By T[imothy] Gridley Jr. Deputy
1842
vs
G355
Smith &
Fee Bill Issued nov

r

22, 1844 Ret Day Feb 20. 1845
[p. [214]]
No
[Parties Names]
[Epitome]
[Fee Book]
[To whom Issued]
[Officers Return]
[. . .]
Fee Bill Plaintiffs 7.12½ Defts
I Cannot in my find the within named and any property whereon to make a levy whereby to make the money or any part thereof Feb 14. 1845. Sheriff By Timothy Gridley Jr. Deputy
1842
vs
G355
Smith &
Fee Bill Issued novr 22, 1844 Ret Day Feb 20. 1845
[p. [214]]