Home

>
Docket Entry, Fieri Facias, between 18 September and circa 17 December 1843 [M. F. Thompson v. F. Dixon and E. Dixon]
Source Note

Docket Entry, , [, Hancock Co., IL], between 18 Sept. and ca. 17 Dec. 1843,

M. F. Thompson v. F. Dixon and E. Dixon

(Hancock Co., IL, Circuit Court 1843); Hancock County Circuit Court, Docket, vol. B, p. [95]; handwriting of ; Hancock County Courthouse, Carthage, IL; image in Hancock County Papers, 1830–1872, CHL.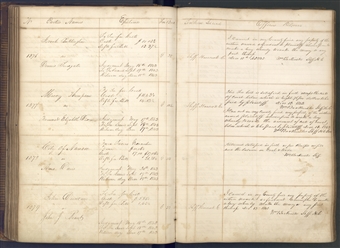 <​N

o

​>
<​Parties Names​>
<​Epitome​>
<​Fee Book​>
<​To whom Issued​>
<​Officers Return​>
[. . .]
[. . .]
[. . .]
[. . .]
[. . .]
[. . .]
1377
vs Francis Dixon & Elizabeth Dixon
for Costs Costs $11.43¾ Defts fee Bill 14. 12½ Judgment May 17

th

. 1843 Issued Sept

19

18

th

, 1843 Return day Decr 17

th

, 1843
G 102
This Fee bill is satisfied in full except the costs of court below which is Eight 75/100 dollars to be paid by Decr 13, 1843, Shff, I can not in my find any property of the within named whereupon to make a levy whereby to make the amount of costs of court below which is to be paid by Decr 18, 1843. Shff Ills
[p. [95]]
| | | | | | |
| --- | --- | --- | --- | --- | --- |
| No | Parties Names | Epitome | Fee Book | To whom Issued | Officers Return |
| [. . .] | [. . .] | [. . .] | [. . .] | [. . .] | [. . .] |
| 1377 | vs Francis Dixon & Elizabeth Dixon | for Costs Costs $11.43¾ Defts fee Bill 14. 12½ Judgment May 17th. 1843 Issued Sept 18th, 1843 Return day Decr 17th, 1843 | G 102 | | This Fee bill is satisfied in full except the costs of court below which is Eight 75/100 dollars to be paid by Decr 13, 1843, Shff, I can not in my find any property of the within named whereupon to make a levy whereby to make the amount of costs of court below which is to be paid by Decr 18, 1843. Shff Ills |
[p. [95]]