Home

>
Docket Entry, Pleas, 31 October 1844 [JS et al. v. C. B. Street and M. B. Street]
Source Note

Docket Entry, Pleas, [, Hancock Co., IL, 31 Oct. 1844],

JS et al. v. C. B. Street and M. B. Street

(Hancock Co., IL, Circuit Court 1846); Hancock County Circuit Court Record, vol. D, p. 224; handwriting of ; Hancock County Courthouse, Carthage, IL; microfilm at FHL.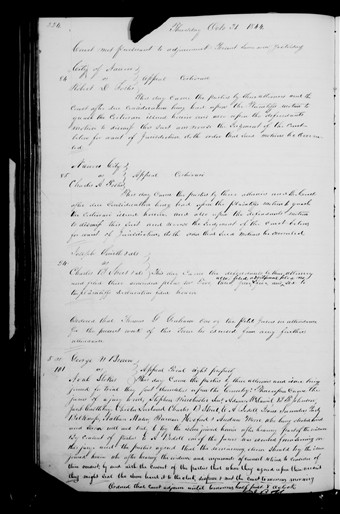 24.
Joseph Smith & als)
vs)
Charles B Street & als)
This day Came the defendants by their attorney and filed their amended pleas no
s
Two, three, four, <​&​> five, and <​also filed additional plea no​> six to the plaintiffs Declaration filed herein [p. 224]
24.
Joseph Smith & als)
vs)
Charles B Street & als)
This day Came the defendants by their attorney and filed their amended pleas nos Two, three, four, & five, and also filed additional plea no six to the plaintiffs Declaration filed herein [p. 224]