Home

>
Docket Entry, Removal Orders, 11 April 1839, Copy [State of Missouri v. Worthington et al.]
Source Note

Docket Entry, Removal Orders, Honey Creek Township, Daviess Co., MO, 11 Apr. 1839,

State of MO v. Worthington et al.

(Boone Co., MO, Circuit Court 1840). Copied 26 June 1839, in "Copy of Record," 7–8, 11; handwriting of ; certified by , 26 June 1839; original destroyed. Photocopy at State Historical Society of Missouri, Columbia. Includes seal.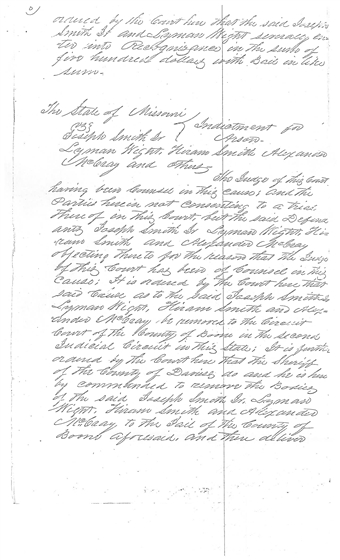 ordered by the Court here that the said Joseph Smith Jr and severally enter into Recognizance in the sum of five hundred dollars with Bail in like sum. [p. 8]
ordered by the Court here that the said Joseph Smith Jr and severally enter into Recognizance in the sum of five hundred dollars with Bail in like sum. [p. 8]