Home

>
Docket Entry, Revived Judgment, 31 October 1860 [Rounds for the use of the State of Ohio as well as Himself v. JS]
Source Note

Docket Entry, Revived Judgment, [, Geauga Co., OH], [31 Oct. 1860],

Rounds for the use of the State of OH as well as Himself v. JS

(Geauga Co., OH, Court of Common Pleas 1860); Geauga County Court of Common Pleas, Journal, vol. R, pp. 208–209; handwriting of William N. Keeny; probable signature of Horace Wilder; Geauga County Archives and Records Center, Chardon, OH.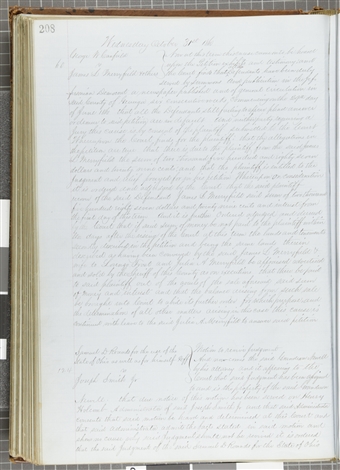 124
| | |
| --- | --- |
| the) | Motion to revive Judgment |
| State of as well as for himself Plff) | |
| vs) | |
| Joseph Smith Jr) | |
And now comes the said by his and it appearing to the Court that said Judgment has been assigned to and is the property of the said , that due notice of this motion has been served on Administrator of said Joseph Smith Jr and that said consents that said motion be heard and determined at this Court and that said admits the facts stated in said motion and shows no cause why said Judgment should not be revived it is ordered that the said Judgment of the said for the State of [p. 208]
124
| | |
| --- | --- |
| the) | Motion to revive Judgment |
| State of as well as for himself Plff) | |
| vs) | |
| Joseph Smith Jr) | |
And now comes the said by his and it appearing to the Court that said Judgment has been assigned to and is the property of the said , that due notice of this motion has been served on Administrator of said Joseph Smith Jr and that said consents that said motion be heard and determined at this Court and that said admits the facts stated in said motion and shows no cause why said Judgment should not be revived it is ordered that the said Judgment of the said for the State of [p. 208]