Home

>
Docket Entry, Verdict, 3 April 1838 [Boynton and Hyde v. JS]
Source Note

Docket Entry, Verdict, , Geauga Co., OH, 3 Apr. 1838,

Boynton and Hyde v. JS

(Geauga Co., OH, Court of Common Pleas 1838); Geauga County Court of Common Pleas, Journal, vol. N, p. 290; handwriting of Charles H. Foot; Geauga County Archives and Records Center, Chardon, OH. Transcription from a digital color image made of the original in 2011.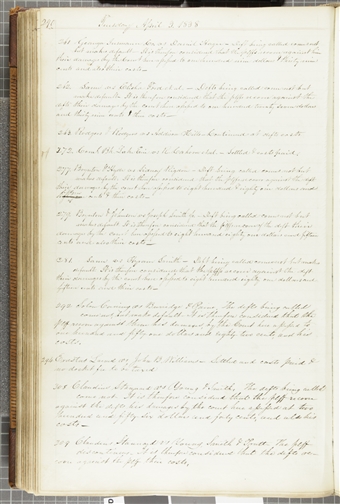 279. & Johnson [] vs Joseph Smith Jr.— Def[endan]t being called comes not but makes default. It is therefore considered that the pl[ainti]ffs recover of the deft their damages by the court here assessed to eight hundred eighty one dollars and fifteen cents and also their costs— [p. 290]
279. & Johnson vs Joseph Smith Jr.— Defendant being called comes not but makes default. It is therefore considered that the plaintiffs recover of the deft their damages by the court here assessed to eight hundred eighty one dollars and fifteen cents and also their costs— [p. 290]