Home

>
Indictment, circa 22 May 1844 [State of Illinois v. JS for Adultery and Fornication]
Source Note

Indictment, [], Hancock Co., IL, ca. [22] May 1844,

State of IL v. JS for Adultery and Fornication

(Hancock Co., IL, Circuit Court 1844); handwriting of E. A. Thompson; docket and notation by E. A. Thompson, [, Hancock Co., IL, ca. 22 May 1844]; notations by unidentified scribe, [ca. 22 May 1844]; notation by , 23 May 1844; two pages; CHL.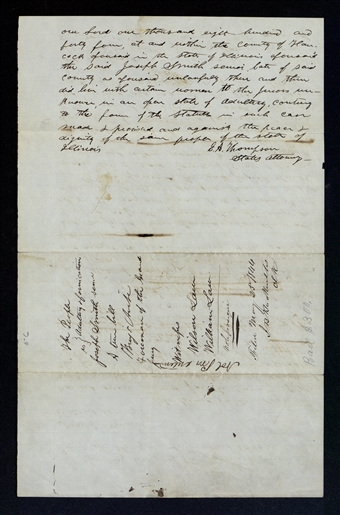 our Lord one thousand eight hundred and forty four, at and within the county of aforesaid in the state of aforesaid the said Joseph Smith senior, late of said as aforesaid unlawfully there and then did live with certain women to the Jurors unknown, in an open state of adultery, contrary to the form of the statute in such case made & provided and against the peace & dignity of the same people of the state of
E. A. Thompson
States attorney—
<​56​>
The People
vs)
Adultery & fornication
Joseph Smith sen

r.
A
Foreman of the Grand Jury
Witnesses
Bail $300,
Nol Pros entered—
clk [p. [2]]
our Lord one thousand eight hundred and forty four, at and within the county of aforesaid in the state of aforesaid the said Joseph Smith senior, late of said as aforesaid unlawfully there and then did live with certain women to the Jurors unknown, in an open state of adultery, contrary to the form of the statute in such case made & provided and against the peace & dignity of the same people of the state of
E. A. Thompson
States attorney—
56
| | |
| --- | --- |
| The People | |
| vs) | Adultery & fornication |
| Joseph Smith senr. | |
A
Benjn Avise
Foreman of the Grand Jury
Witnesses
Bail $300,
Nol Pros entered—
Filed May 23d 1844
clk [p. [2]]