Home

>
Invoice, Keeler, McNeil & Co. to Rigdon, Smith & Cowdery, 11 October 1836
Source Note

G. M. Gardner on behalf of Keeler, McNeil & Co., Invoice, , New York Co., NY, to , , Geauga Co., OH, 11 Oct. 1836; printed form with manuscript additions in unidentified handwriting and probably handwriting of G. M. Gardner; five pages; JS Office Papers, CHL. Includes docket, notation, and endorsements.

Single bifolium plus one leaf measuring 13 x 8 inches (33 x 20 cm). The leaves are lined with 37 blue horizontal lines (now faded). Printed in black ink in the top right corner is the date line, business logo, and address for Keeler, McNeil & Co. in several font types, with two black printed horizontal lines dividing the business logo from the inscription. The left and right margins of each page contain manually inscribed vertical brown lines (one on the left; three on the right) forming ledger columns. The document was folded into a barrel fold creating five panels. Graphite and black ink redactions throughout the invoice are in unidentified handwriting; a light brown ink redaction is in the handwriting of Marcellus Cowdery. Cowdery docketed the verso of the last leaf on the fourth panel: "Keeler, McNeil & Co | Dry Goods | $2959.46" in black ink; "Error on 1st Sheet | $24. Under Chgd." in light brown ink; and "Examined | MFC" in graphite. The pattern of coal dust on the verso third panel suggests it remained in a folded state for some time. The second bifolium page and single leaf were formerly stapled or pinned together.

This document was in the possession of church agents who purchased dry goods from Keeler, McNeil & Co. in . Based on the docket by Cowdery, the invoice was in church possession by 1837, suggesting continuous institutional custody.

Footnotes

1

Cowdery served as clerk of the Kirtland High Council in 1837 (Minute Book 1, 11 and 29 May 1837).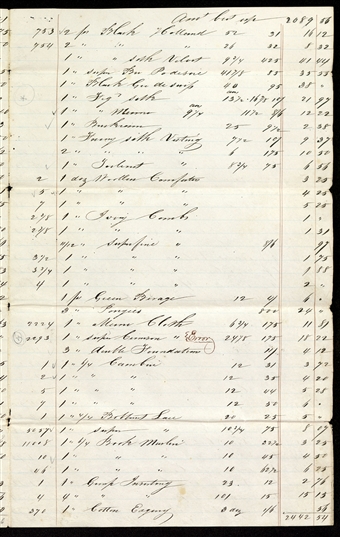 Am[oun]

t

bro[ugh]

t

up
2,089.56
753
2 p[ai]r Black Holland
52
31
16.12
754
2 [pr Black Holland]
26
32
8.32
1 [pr Black] silk Velvet
9¾
4.25
41.44
1 [pr] Super Bro Po de soie [Peau de Soie]
41⅞
85
35.55
1 [pr] Black Gro de swiss
40
95
38.00
1 [pr] Fig[ure]

d

silk
<​

◊◊◊

​> 13½ 16⅞
10/
21.97
1 [pr Fig

d

] Merino
<​

◊◊◊

​> 9¼ 11½
8/ 6
12.22
1 [pr] Buckram
25
9½
2.38
1 [pr] Fansy silk Vesting
7½
10/
9.37
2 [pr Fansy silk Vesting]
6
1.75
10.50
1 [pr] Toilient [Vesting]
8¾
75
6.56
2
1 doz[en] Woollen Comforters
3.25
5
1 [doz Woollen Comforters]
4.25
7
1 [doz Woollen Comforters]
5.25
2⅜
1 [doz] Ivory Combs
1.00
2⅞
1 [doz Ivory Combs]
1.31
11/ 12 [doz] Super fine [Combs]
8/ 6
0.97
3½
[doz] Super fine [Combs]
1.75
3¾
[doz] Super fine [Combs]
1.88
4
[doz] Super fine [Combs]
2.00
1 pr Green Berage [Barrage?]
12
4/
6.00
3 [pr] Pongees
8.00
24.00
2224
1 [pr] Merino Cloth
6¾
1.75
11.81
2293
1 [pr] super Crimson [Cloth] <​Error​>
24⅛
1.75
18.22
3 [pr] double Foundation
11/
4.12
1
1 [pr] 6/ 4 Cambric
12
31
3.72
2
1 [pr 6/ 4 Cambric]
12
35
4.20
5
1 [pr 6/ 4 Cambric]
12
44
5.28
7
1 [pr 6/ 4 Cambric]
12
50
6.00
1
1 [pr] 4/ 4 Bobbinet Lace
20
25
5.00
5057
1 [pr] super [Lace]
10¾
75
8.07
11008
1 [pr] 6/ 4 Book Muslin
10
32½
3.25
10
1 [pr Book Muslin]
10
45
4.50
46
1 [pr Book Muslin]
10
62½
6.25
1
1 [pr] Gimp Inserting
23
12
2.76
4
4 [pr Gimp Inserting]
101
15
15.15
370
1 [pr] Cotton Edging
3 doz
1/ 6

0.56

2,442.54
[p. [3]]
| | | | | |
| --- | --- | --- | --- | --- |
| | Amount brought up | | | 2,089.56 |
| 753 | 2 pair Black Holland | 52 | 31 | 16.12 |
| 754 | 2 [pr Black Holland] | 26 | 32 | 8.32 |
| | 1 pr Black silk Velvet | 9¾ | 4.25 | 41.44 |
| | 1 [pr] Super Bro Po de soie Peau de Soie | 41⅞ | 85 | 35.55 |
| | 1 pr Black Gro de swiss | 40 | 95 | 38.00 |
| | 1 pr Figured silk | 13½ 16⅞ | 10/ | 21.97 |
| | 1 pr Figd Merino | 9¼ 11½ | 8/ 6 | 12.22 |
| | 1 pr Buckram | 25 | 9½ | 2.38 |
| | 1 pr Fansy silk Vesting | 7½ | 10/ | 9.37 |
| | 2 [pr Fansy silk Vesting] | 6 | 1.75 | 10.50 |
| | 1 pr Toilient [Vesting] | 8¾ | 75 | 6.56 |
| 2 | 1 dozen Woollen Comforters | | | 3.25 |
| 5 | 1 [doz Woollen Comforters] | | | 4.25 |
| 7 | 1 [doz Woollen Comforters] | | | 5.25 |
| 2⅜ | 1 doz Ivory Combs | | | 1.00 |
| 2⅞ | 1 [doz Ivory Combs] | | | 1.31 |
| | 11/ 12 [doz] Super fine [Combs] | | 8/ 6 | 0.97 |
| 3½ | [doz] Super fine [Combs] | | | 1.75 |
| 3¾ | [doz] Super fine [Combs] | | | 1.88 |
| 4 | [doz] Super fine [Combs] | | | 2.00 |
| | 1 pr Green Berage Barrage | 12 | 4/ | 6.00 |
| | 3 pr Pongees | | 8.00 | 24.00 |
| 2224 | 1 pr Merino Cloth | 6¾ | 1.75 | 11.81 |
| 2293 | 1 [pr] super Crimson [Cloth] Error | 24⅛ | 1.75 | 18.22 |
| | 3 pr double Foundation | | 11/ | 4.12 |
| 1 | 1 pr 6/ 4 Cambric | 12 | 31 | 3.72 |
| 2 | 1 [pr 6/ 4 Cambric] | 12 | 35 | 4.20 |
| 5 | 1 [pr 6/ 4 Cambric] | 12 | 44 | 5.28 |
| 7 | 1 [pr 6/ 4 Cambric] | 12 | 50 | 6.00 |
| 1 | 1 pr 4/ 4 Bobbinet Lace | 20 | 25 | 5.00 |
| 5057 | 1 [pr] super [Lace] | 10¾ | 75 | 8.07 |
| 11008 | 1 pr 6/ 4 Book Muslin | 10 | 32½ | 3.25 |
| 10 | 1 [pr Book Muslin] | 10 | 45 | 4.50 |
| 46 | 1 [pr Book Muslin] | 10 | 62½ | 6.25 |
| 1 | 1 pr Gimp Inserting | 23 | 12 | 2.76 |
| 4 | 4 [pr Gimp Inserting] | 101 | 15 | 15.15 |
| 370 | 1 pr Cotton Edging | 3 doz | 1/ 6 | 0.56 |
| | | | | 2,442.54 |
[p. [3]]