Home

>
Letter from Elias Higbee, 21 February 1840
Source Note

, Letter, , to JS, [, Hancock Co., IL?], 21 Feb. 1840. Featured version copied [between Apr. and June 1840] in

JS Letterbook 2, pp. 100–103

; handwriting of ; JS Collection, CHL. For more complete source information, see the source note for

JS Letterbook 2

.

Historical Introduction

While in on 21 February 1840, wrote a letter to JS, the third in a series of seven extant letters apprising JS of the actions of the Senate Committee on the Judiciary, which was considering the 's

memorial

to Congress. Higbee had testified before the committee the previous day, and the committee had adjourned with the understanding that Senator and Representative of would be allowed the following day to present their version of what had transpired in Missouri. In this letter, Higbee conveyed to JS much of what Linn and Jameson contended, as well as how he rebutted their arguments.

presumably sent this letter by post to , Illinois, where JS would have received it after he returned from on or before 29 February 1840. The original letter is not extant. copied the version featured here into

JS Letterbook 2

sometime between April and June 1840.

Footnotes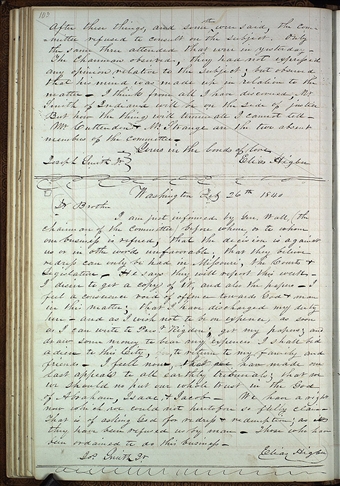 After these things, and some <​other​> were said, the Committee refused to consult on the subject. Only the same three attended that were in yesterday— The Chairman observed, they had not expressed any opinion relative to the subject; but observed that his mind was made up in relation to the matter— I think from all I have discovered, Mr. [Oliver H.] Smith of will be on the side of justice But how the thing will terminate I cannot tell—
Mr. Crittendon [John J. Crittenden] & Mr. [Robert] Strange are the two absent members of the committee—
Yours in the bonds of love,
.
Joseph Smith. Jr. [p. 103]
After these things, and some other were said, the Committee refused to consult on the subject. Only the same three attended that were in yesterday— The Chairman observed, they had not expressed any opinion relative to the subject; but observed that his mind was made up in relation to the matter— I think from all I have discovered, Mr. Oliver H. Smith of will be on the side of justice But how the thing will terminate I cannot tell—
Mr. Crittendon [John J. Crittenden] & Mr. Robert Strange are the two absent members of the committee—
Yours in the bonds of love,
.
Joseph Smith. Jr. [p. 103]