Home

>
Letter from Lewis Zeigler, 25 May 1844
Source Note

Lewis Zeigler, Letter, Leitersburg, Washington Co., MD, to JS, , Hancock Co., IL, 25 May 1844; handwriting presumably of Lewis Zeigler; docket in handwriting of ; two pages; JS Collection, CHL. Includes postal markings.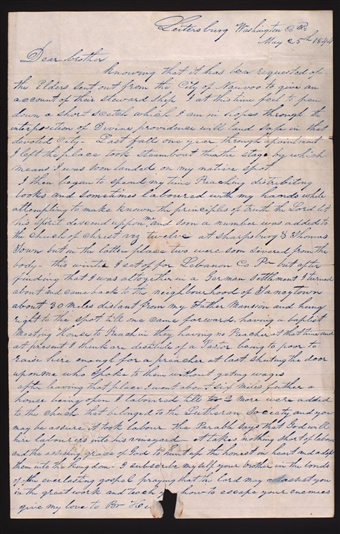 Leitersburg Washington Co M
d

.
Dear brother
knowing that it has been requested of the Elders sent out from the City of to give an account of their steward ship I at this time feel to pen down a short scetch which I am in hopes through the interposition of Divine providence will land safe in that devoted . Last fall one year through apointment I left the place took steamboat then the stage by which means I was soon landed on my native spot
I then began to spend my time Preaching distribiting books and sometimes laboured with my hands while attempting to make known the principles of truth the Lord let his spirit descend uppon <​me​>, and soon a number was added to the chu[r]ch of christ viz twelve at sharpsburg & Thomas Town but in the latter place two were soon severed from the body. this winter I set of[f] for Lebanon Co but after finding that I was altogether in a German settlement I turned about and came back to this neighbourhood of Taneytown about 30 miles distant from my Father['s] Mansion and hung right to the spot till one came forward. having a baptist Meeting House to Preach in they having no Preacher at that time and at present I think are destitute of a Pastor being to[o] poor to raise hire enough for a preacher at last shuting the door upon me who spoke to them without geting wages
after leaving that place I went about six miles fu[r]ther a house being open I laboured till
too
2 more were added to the chuch that belonged to the Lutheran society and you may be assure[d] it took labour the Parable says that God will hire labourers into his vineyard— it takes nothing short of labour and the assisting grace of God to hunt up the honest in heart and adopt them into the kingdom. I subscribe my self your brother in the bonds of
of
the everlasting gospel praying that the lord may assist you in the great work and teach y[ou] how to escape your enemies
give my love to Br Hi[
page torn
] [p. [1]]
Leitersburg Washington Co M
d
.
May 25th 1844
Dear brother
knowing that it has been requested of the Elders sent out from the City of to give an account of their steward ship I at this time feel to pen down a short scetch which I am in hopes through the interposition of Divine providence will land safe in that devoted . Last fall one year through apointment I left the place took steamboat then the stage by which means I was soon landed on my native spot
I then began to spend my time Preaching distribiting books and sometimes laboured with my hands while attempting to make known the principles of truth the Lord let his spirit descend uppon me, and soon a number was added to the church of christ viz twelve at sharpsburg & Thomas Town but in the latter place two were soon severed from the body. this winter I set off for Lebanon Co but after finding that I was altogether in a German settlement I turned about and came back to this neighbourhood of Taneytown about 30 miles distant from my Father's Mansion and hung right to the spot till one came forward. having a baptist Meeting House to Preach in they having no Preacher at that time and at present I think are destitute of a Pastor being too poor to raise hire enough for a preacher at last shuting the door upon me who spoke to them without geting wages
after leaving that place I went about six miles further a house being open I laboured till 2 more were added to the chuch that belonged to the Lutheran society and you may be assure[d] it took labour the Parable says that God will hire labourers into his vineyard— it takes nothing short of labour and the assisting grace of God to hunt up the honest in heart and adopt them into the kingdom. I subscribe my self your brother in the bonds of the everlasting gospel praying that the lord may assist you in the great work and teach you how to escape your enemies
give my love to Br Hi[
page torn
] [p. [1]]