Home

>
Letter from Lyman Wight and Heber C. Kimball, 19–24 June 1844
Source Note

and , Letter, , Philadelphia Co., PA, to JS, [, Hancock Co., IL], 19–24 June 1844; handwriting of John A. Forgeus; signature in handwriting of ; dockets in handwriting of ; notation in unidentified handwriting; sixteen pages; JS Collection, CHL.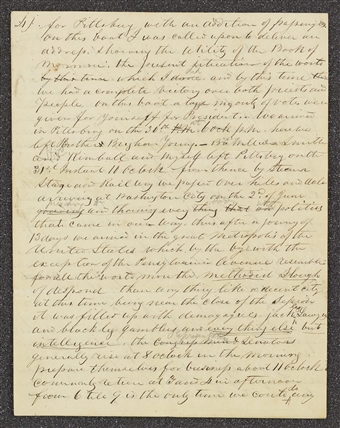 for with an addition of passenge[r]s on this boat I was called upon to deliver an address, showing the utility of the Book of Mormon; the present situation of the world
by
this
time
which I done, and by this time the we had a complete victory over both priests and people, on this boat a large mgority of votes were given for yourself for President, We arrived in on the 30
th.
P.M.
6 ock p.m. here we left Brother
s
.— Br
s
and and left on the 31
st.
Instant 10 Oclock from thence by Steamr Stage and Rail way we passed over hills and dale arriving at on the 2
nd.
of June
goading and thorning
every thing
that
on politics that came in our way, thus after a journy of 13 days we arrived in the great Metropolis of the which by the by with the exception of the Pensylvania Avenue resemble for all the world more the
Methodist
Slough
of despond than any thing like a decent city at this time being near the close of the Session it was filled up with demagogues— jack<​leg​> Lawyers and black leg gamblers and
every thing else
but
intelligence
, the Congress men & Senators generally rise at 8 oclock in the morning prepare themselves for business about 11 Oclock commonly return at 3 and 4 in afternoon from 6 till 9 is the only time we could <​do​> any [p. 4]
for with an addition of passengers on this boat I was called upon to deliver an address, showing the utility of the Book of Mormon; the present situation of the world which I done, and by this time the we had a complete victory over both priests and people, on this boat a large mgority of votes were given for yourself for President, We arrived in on the 30th. 6 ock p.m. here we left Brother .— Br and and left on the 31st. Instant 10 Oclock from thence by Steamr Stage and Rail way we passed over hills and dale arriving at on the 2nd. of June
goading and thorning
every thing on politics that came in our way, thus after a journy of 13 days we arrived in the great Metropolis of the which by the by with the exception of the Pensylvania Avenue resemble for all the world more the
Methodist
Slough
of despond than any thing like a decent city at this time being near the close of the Session it was filled up with demagogues— jackleg Lawyers and black leg gamblers and
every thing else
but
intelligence
, the Congress men & Senators generally rise at 8 oclock in the morning prepare themselves for business about 11 Oclock commonly return at 3 and 4 in afternoon from 6 till 9 is the only time we could do any [p. 4]