Home

>
Letter from Lyman Wight and Heber C. Kimball, 19–24 June 1844
Source Note

and , Letter, , Philadelphia Co., PA, to JS, [, Hancock Co., IL], 19–24 June 1844; handwriting of John A. Forgeus; signature in handwriting of ; dockets in handwriting of ; notation in unidentified handwriting; sixteen pages; JS Collection, CHL.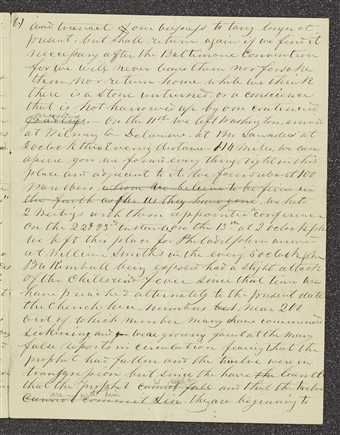 and transact
of
our busness to tarry longer at present, but shall return again if we find it neccessary after the Baltimore Convention for we will never leave them nor forsake them nor return home while we think there is a stone unturned, or a conscience that is not harrowed up by our continued goadings.— On the 11
th.
we left , arrived at Wilmington Delaware, at Bro Saunders' [Ellis Mendenhall Sanders's] at 5 Oclock this Evenig distance 114 miles, we can assure you we found every thing right in this place and adjacent to it. We found about 100 members whom we believe to be firm in the faith as far as they have gone. we held 2 Meetings with them appointed conferences on the 22 & 23
rd
instants— on the 13
th.
at 2 oclock pm We left this place for arrived at 's in the eveng 5 oclock pm being exposed had a slight attack of the chills and fever since that time we have preached alternately to the present date the church here numbers near 200. Out of which number many have commenced sickening, and were growing faint at the many false reports in circulation fearing that the prophet had fallen and the twelve were in transgression but since the[y] have
the
learnt that the prophet cannot fall and that the twelve cannot commit Sin. the[y] are beginning to [p. 6]
and transact our busness to tarry longer at present, but shall return again if we find it neccessary after the Baltimore Convention for we will never leave them nor forsake them nor return home while we think there is a stone unturned, or a conscience that is not harrowed up by our continued goadings.— On the 11th. we left , arrived at Wilmington Delaware, at Bro Saunders' [Ellis Mendenhall Sanders's] at 5 Oclock this Evenig distance 114 miles, we can assure you we found every thing right in this place and adjacent to it. We found about 100 members whom we believe to be firm in the faith as far as they have gone. we held 2 Meetings with them appointed conferences on the 22 & 23rd instants— on the 13th. at 2 oclock pm We left this place for arrived at 's in the eveng 5 oclock pm being exposed had a slight attack of the chills and fever since that time we have preached alternately to the present date the church here numbers near 200. Out of which number many have commenced sickening, and were growing faint at the many false reports in circulation fearing that the prophet had fallen and the twelve were in transgression but since they have learnt that the prophet cannot fall and that the twelve cannot commit Sin. they are beginning to [p. 6]