Home

>
Letter from Orson Hyde, 11 June 1844
Source Note

, Letter, , to JS, , Hancock Co., IL, 11 June 1844; handwriting of ; dockets in handwriting of and unidentified scribe; four pages; JS Collection, CHL.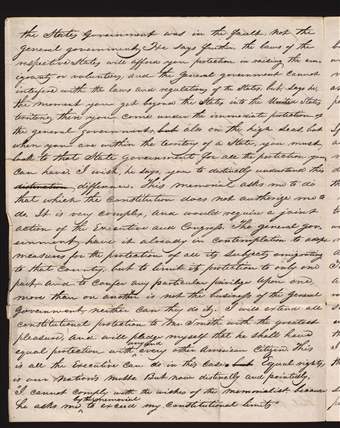 the States Government was in the fault, not the general government. He says further, the laws of the respective States will afford you protection in raising the emigrants or volunteers; and the general government cannot interfere with the laws and regulations of the States: but, says he, the moment you get beyond the States into the territories, then you come under the immediate protection of the general government;
but
also on the high seas, but when you are within the territory of a State, you must look to that State government for all the protection you can have. I wish, he says, you to distinctly understand this
distinction
difference. This memorial asks me to do that which the constitution does not authorize me to do. It is very complex, and would require a joint action of the Executive and Congress. The general government have it already in contemplation to adopt measures for the protection of all its subjects emigrating to that country; but to limit its protection to only one part, and to confer any particular privilege upon one, more than on another is not the business of the General Government, neither can they do it. I will extend all constitutional protection to Mr. Smith with the greatest pleasure, and will pledge myself that he shall have equal protection with <​any and​> every other American Citizen. This is all the Executive can do in this case.
but
Equal rights, is our nation's motto. But now distinctly and pointedly, "I cannot comply with the wishes of the memorialist, because he asks me <​by the memorial​> to exceed my constitutional limits" [p. [2]]
the States Government was in the fault, not the general government. He says further, the laws of the respective States will afford you protection in raising the emigrants or volunteers; and the general government cannot interfere with the laws and regulations of the States: but, says he, the moment you get beyond the States into the territories, then you come under the immediate protection of the general government; also on the high seas, but when you are within the territory of a State, you must look to that State government for all the protection you can have. I wish, he says, you to distinctly understand this difference. This memorial asks me to do that which the constitution does not authorize me to do. It is very complex, and would require a joint action of the Executive and Congress. The general government have it already in contemplation to adopt measures for the protection of all its subjects emigrating to that country; but to limit its protection to only one part, and to confer any particular privilege upon one, more than on another is not the business of the General Government, neither can they do it. I will extend all constitutional protection to Mr. Smith with the greatest pleasure, and will pledge myself that he shall have equal protection with any and every other American Citizen. This is all the Executive can do in this case. Equal rights, is our nation's motto. But now distinctly and pointedly, "I cannot comply with the wishes of the memorialist, because he asks me by the memorial to exceed my constitutional limits" [p. [2]]