Home

>
Letter to Edward Partridge and Others, 10 December 1833
Source Note

JS, Letter, , Kirtland Township, Geauga Co., OH, to , , , , , , and others, , Clay Co., MO, 10 Dec. 1833. Retained copy, [ca. 10 Dec. 1833], in

JS Letterbook 1, pp. 70–75

; handwriting of ; JS Collection, CHL. For more complete source information, see the source note for

JS Letterbook 1

.

Historical Introduction

On 5 December 1833, JS responded to two letters:

one

written by on 6–7 November and one penned by to the editors of the

Missouri Republican

on 9 November. In his 5 December

letter

, JS sought clarification on the conflicting reports written by the two men concerning events in and requested more information. In mid-November, just after being expelled from , , Phelps, and wrote letters to JS that provided more details about the violence against church members in Missouri. JS received these letters on 10 December 1833 and on the same day wrote a letter, featured here, that responded to the more in-depth information his colleagues had sent him.

In this response, JS extensively referred the church leaders to the and to his revelations. He agonized over the catastrophe in , the reasons for which, he noted in this letter, "I am ignorant and the Lord will not show me." Though " would suffer sore affliction," JS reminded church members that "after

much

tribulation cometh the

blessing

." He invoked both the Old Testament and the New Testament to provide support and spiritual guidance to church members in Missouri as they began to settle new lands with few provisions. Regarding their property in Jackson County, JS also urged them to "retain [their] lands even unto the uttermost." In addition, JS encouraged the Missouri church members to vigorously pursue protection and seek redress of grievances through appeals to the local courts, the governor of Missouri, the president of the , and, as always, the Lord. A

revelation

dictated six days after JS wrote this letter reaffirmed this guidance. This instruction to seek redress and protection through legal and political means reflected the approach that JS and the church would take regarding their losses in Missouri through the end of JS's life. JS ended his letter with a long prayer in behalf of the careworn Saints in Missouri.

It is unknown how, or if, church members in received JS's 10 December 1833 letter. copied the letter into JS's

letterbook

, which is the only known extant version.

Footnotes

1

See Letter from William W. Phelps, 14 Nov. 1833; Letter from Edward Partridge, between 14 and 19 Nov. 1833; and Letter from John Corrill, 17 Nov. 1833.  

2

See Revelation, 16–17 Dec. 1833 [D&C 101].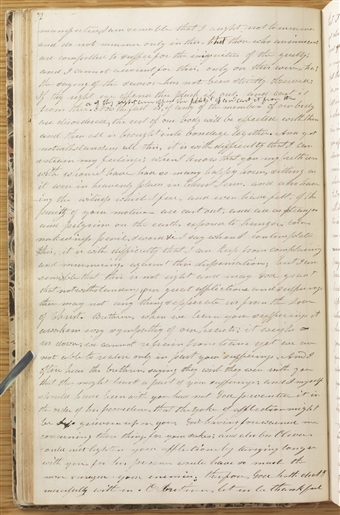 manifested, I am sensable that I aught not to murmer and do not murmer only in this,
but
that those who are innocent are compelled to suffer for the iniquities of the guilty; and I cannot account for this, only on this wise, that the saying of the savior has not been strictly observed: If thy right eye offend thee pluck it out. and cast it from thee <​or if thy right arm offend thee pluck it of[f] and cast it from thee​>. Now the fact is, if any of the members of our body are disordered, the rest of our body will be effected with them and then all is brought into bondage together. And yet notwithstanding all this, it is with difficulty that I can restrain my feelings; when I know that you my brethren with whom I have had so many happy hours, sitting as it were in heavenly places in Christ Jesus. and also haveing the witness which I feel, and even have felt, of the purity of your motives— are cast out, and are as strangers and pilgrims on the earth, exposed to hunger, cold, nakedness peril, sword &c I say when I contemplate this, it is with difficulty that I can keep from complaining and murmerings against this dispensation; but I am sensible that this is not right and may God grant that notwithstanding your great afflictions and sufferings there may not any thing sepperate us from the Love of Christ. Brethren, when we learn your sufferings it awakens evry sympathy of our hearts; it weighs
us
us down; we cannot refrain from tears
[illegible]
yet we are not able to realize only in part your sufferings. And I often hear the brethren saying they wish they were with you that they might bear a part of your sufferings; and I myself should have been with you had not God prevented it in the order of his providence, that the yoke of affliction might be less grievous upon you; God having forewarned me concerning these things for your sakes; and also , could not lighten your afflictions by tarrying longer with you, for his presence would have so much the more enraged your enemies; therefore, God hath
deals
dealt mercifully with us. O brethren, let us be thankful [p. 72]
manifested, I am sensable that I aught not to murmer and do not murmer only in this, that those who are innocent are compelled to suffer for the iniquities of the guilty; and I cannot account for this, only on this wise, that the saying of the savior has not been strictly observed: If thy right eye offend thee pluck it out. and cast it from thee or if thy right arm offend thee pluck it off and cast it from thee. Now the fact is, if any of the members of our body are disordered, the rest of our body will be effected with them and then all is brought into bondage together. And yet notwithstanding all this, it is with difficulty that I can restrain my feelings; when I know that you my brethren with whom I have had so many happy hours, sitting as it were in heavenly places in Christ Jesus. and also haveing the witness which I feel, and even have felt, of the purity of your motives— are cast out, and are as strangers and pilgrims on the earth, exposed to hunger, cold, nakedness peril, sword &c I say when I contemplate this, it is with difficulty that I can keep from complaining and murmerings against this dispensation; but I am sensible that this is not right and may God grant that notwithstanding your great afflictions and sufferings there may not any thing sepperate us from the Love of Christ. Brethren, when we learn your sufferings it awakens evry sympathy of our hearts; it weighs us down; we cannot refrain from tears yet we are not able to realize only in part your sufferings. And I often hear the brethren saying they wish they were with you that they might bear a part of your sufferings; and I myself should have been with you had not God prevented it in the order of his providence, that the yoke of affliction might be less grievous upon you; God having forewarned me concerning these things for your sakes; and also , could not lighten your afflictions by tarrying longer with you, for his presence would have so much the more enraged your enemies; therefore, God hath dealt mercifully with us. O brethren, let us be thankful [p. 72]