Home

>
Letter to Emma Smith, 9 November 1839
Source Note

JS, Letter, , Sangamon Co., IL, to , , Hancock Co., IL, 9 Nov. 1839; handwriting of JS; one page; JS Materials, CCLA. Includes address and docket.

One leaf, measuring 12½ × 7¾ inches (32 × 20 cm), with thirty-eight ruled lines. The document was trifolded in letter style and sealed. Later, the document was refolded for filing. Remnants from the adhesive wafer are on the verso of the letter. The signature of JS was clipped, and a dark stain exists along a crease next to the missing signature.

presumably kept the letter until it was given to or inherited by her son , who in turn donated it to the Reorganized Church of Jesus Christ of Latter-day Saints (now Community of Christ).

Footnotes

1

[Joseph Smith III], "Letters of Joseph Smith, the Martyr," Saints' Herald, 1 Dec. 1879, 356–357.  

Saints' Herald. Independence, MO. 1860–.

Historical Introduction

On the morning of 9 November 1839, JS wrote a letter to from , Illinois, while on his journey to . He and the rest of the delegation seeking redress had departed , Illinois, eleven days earlier, and they stopped in Springfield to allow , who was still recovering from malaria, to further recuperate. The stopover apparently provided JS with time to write home. He explained in the letter that the traveling party was behind schedule because of Rigdon's poor health and that they planned to leave him in Springfield to recover fully. JS also expressed concern for the welfare of his family, encouraged Emma to care for their children, and requested a reply from her.

The letter was carried from to by a "Mr Law," who delivered it to sometime before 6 December, when she wrote a

letter

back to JS and confirmed she had received this letter.

Footnotes

2

Rigdon and Robert D. Foster, a member of the traveling party who was also a doctor, continued with the group as far as Columbus, Ohio, which suggests that the members of the delegation changed their minds about Rigdon's fitness to travel. (Historian's Office, JS History, Draft Notes, 19 Nov. 1839, 68; Historical Introduction to Letter of Introduction from James Adams, 9 Nov. 1839; Letter to Hyrum Smith and Nauvoo High Council, 5 Dec. 1839.)  

3

"Mr Law" was probably William Law or his brother Wilson. Likely accompanied by his brother, William had recently moved to Commerce. (Letter from Emma Smith, 6 Dec. 1839; Cook, "William Law, Nauvoo Dissenter," 49.)  

Cook, Lyndon W. "William Law, Nauvoo Dissenter." BYU Studies 22 (Winter 1982): 47–72.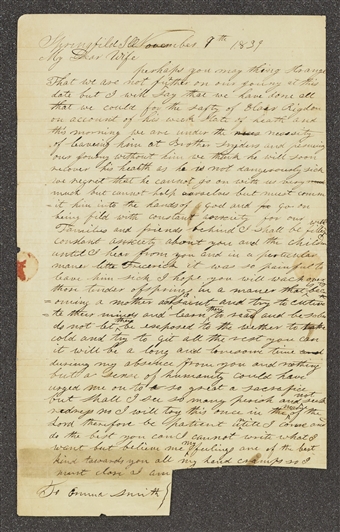 <​
Ill
​>
November 9
th
1839
perhaps you may thing
[
think
]
strange
That we are not further on our Jouny
[
journey
]
at this
date but I will say that we have done all
that we could for the saf
[
e
]
ty of
on account of his week state of hea
[
l
]
th and
this morning we are under the
neces
nesesity
of leaveing him at
and pesueing
[
pursuing
]
our Journy without him we think he will soon
recover his health as he is not dangerously sick
we regret that he cannot go on with us very
much
much but cannot help ourselves but must comm
it him into the hands of God and go on
being fil
[
le
]
d with constant anxiety for our
Families and friends behind I shall be filled
<​
with
​>
constant anxiety about you and the children
until I hear from you and in a particular
maner litle
it was so painful to
leave him sick
I hope you will wa
[
t
]
ch over
those tender of
[
f
]
springs in a maner that
<​
is
​>
<​

is

​>
bec
oming a mother and
<​
a
​>
saint and try to cutive
te
[
cultivate
]
their minds and learn
<​
them
​>
to read and be sober
do not let
<​
them
​>
be exposed to the wether to take
cold and try to git all the rest you can
it will be a long and lonesome time
and
dureing my absence from you and nothing
but a sense of humanity could have
urged me on to
a
so great a sacrafice
but shall I see so many perish and
<​
not
​>
seek
redress
no I will try this once in the
<​
name
​>
of the
Lord therefore be
patient untill I come and
do the best you can I cannot write what I
want but believe me
<​
my
​>
feelings are of the best
kind towards you all my hand cramps so I
must close I am
perhaps you may thing
[
think
]
strange
That we are not further on our Jouny
[
journey
]
at this
date but I will say that we have done all
that we could for the saf
e
ty of
on account of his week state of hea
l
th and
this morning we are under the
nesesity
of leaveing him at
and pesueing
[
pursuing
]
our Journy without him we think he will soon
recover his health as he is not dangerously sick
we regret that he cannot go on with us very
much but cannot help ourselves but must comm
it him into the hands of God and go on
being fil
le
d with constant anxiety for our
Families and friends behind I shall be filled
with
constant anxiety about you and the children
until I hear from you and in a particular
maner litle
it was so painful to
leave him sick
I hope you will wa
t
ch over
those tender of
f
springs in a maner that
is
bec
oming a mother and
a
saint and try to cutive
te
cultivate
their minds and learn
them
to read and be sober
do not let
them
be exposed to the wether to take
cold and try to git all the rest you can
it will be a long and lonesome time
dureing my absence from you and nothing
but a sense of humanity could have
urged me on to
so great a sacrafice
but shall I see so many perish and
not
seek
redress
no I will try this once in the
name
of the
Lord therefore be
patient untill I come and
do the best you can I cannot write what I
want but believe me
my
feelings are of the best
kind towards you all my hand cramps so I
must close I am