Home

>
List of Services, between circa 12 January and 6 February 1819 [Joseph Smith Sr. v. J. Hurlbut]
Source Note

, List of Services, [, NY], between ca. 12 Jan. and 6 Feb. 1819,

Joseph Smith Sr. v. Hurlbut

(Ontario Co., NY, Justice of the Peace Court 1819); handwriting probably of and unidentified scribe; two pages; Ontario County Records and Archives Center, Canandaigua, NY. Transcription from a digital color image made of the original in 2011.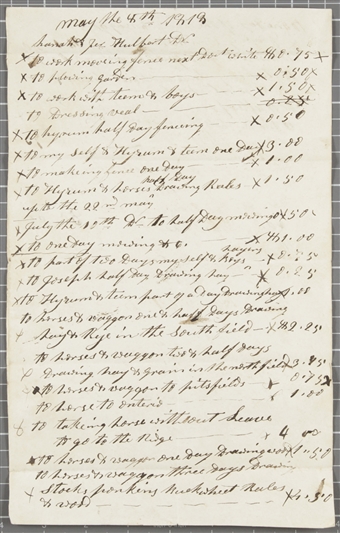 <​X​> to work moveing fence next Do

ct

write
$0.75 <​X​>
<​X​> to plowing garden

——

X 0,50 <​X​>
<​X​> to work with teem & boys

——

<​X​> 1.50 <​X​>
to Dressing veal

——

0.25 X

<​X​> to half Day fenceing

——

<​X​> 0.50
<​X​> to & & teem one Day
<​X​> 3.00
<​X​> to makeing fence one Day

——

<​X​> 1.00
<​X​> to & horses <​half Day​> Drawing Rales—
<​X​> 1.50
up to the 22

nd

may
<​X​> July the 10

th

. D

r

. to half Day mowing
<​X​> 0.50
<​X​> to one Day mowing & c.

——

<​X​> $1.00
<​X​> to part of two Days & Boys <​haying​>—
<​X​> 0.75
<​X​> to Joseph half Day Drawing hay

——

<​X​> 0.25
<​X​> to & teem part of a Day Drawing hay
<​X​> 1.00
to horses & waggon one & half Days Drawing
<​X​> hay & Rye in the South field

——

<​X​> $2.25
to horses & waggon two & half Days
<​X​> Drawing hay & grain in the north field
<​X​> 3.75
<​X​> to horses & waggon to pitsfields

——

<​X​> 0.75 <​X​>
to horse to Onterio

——

<​X​> 1.00
<​X​> to takeing horse with

◊

out Leave to go to the Ridge

——

<​X​> 4 00
<​X​> to horses & waggon one Day Drawing wood
<​X​> 1.50
to horses & waggon three Days Drawing
<​X​> Stocks ponkins Buckwheet Rales & wood

——

<​X​> 4.50
[p. [1]]
X to work moveing fence next Doct write
$0.75 X
X to plowing garden

——

X 0,50 X
X to work with teem & boys

——

X 1.50 X
to Dressing veal

——

X to half Day fenceing

——

X 0.50
X to & & teem one Day
X 3.00
X to makeing fence one Day

——

X 1.00
X to & horses half Day Drawing Rales—
X 1.50
up to the 22

nd

may
X July the 10

th

. D

r

. to half Day mowing
X 0.50
X to one Day mowing & c.

——

X $1.00
X to part of two Days & Boys haying—
X 0.75
X to Joseph half Day Drawing hay

——

X 0.25
X to & teem part of a Day Drawing hay
X 1.00
to horses & waggon one & half Days Drawing
X hay & Rye in the South field

——

X $2.25
to horses & waggon two & half Days
X Drawing hay & grain in the north field
X 3.75
X to horses & waggon to pitsfields

——

X 0.75 X
to horse to Onterio

——

X 1.00
X to takeing horse without Leave to go to the Ridge

——

X 4 00
X to horses & waggon one Day Drawing wood
X 1.50
to horses & waggon three Days Drawing
X Stocks ponkins Buckwheet Rales & wood

——

X 4.50
[p. [1]]