Home

>
Minutes, 27–28 December 1832
Source Note

Minutes, , OH, 27–28 Dec. 1832. Featured version copied [ca. 28 Dec. 1832] in

Minute Book 1, pp. 3–4

; handwriting of ; CHL. For more complete source information, see the source note for

Minute Book 1

.

Historical Introduction

Throughout December 1832, several missionaries who had spent time preaching in the eastern returned to , Ohio, some at the specific request of JS and others for unspecified reasons. For example, in the fall of 1832, JS instructed and , who were laboring in New England, to "come immediately" to Kirtland. JS might have wanted these missionaries to return so that they could be more fully instructed in their duties. On 27 December 1832, JS met with Samuel Smith, Hyde, and other in the new "translating room," located in the recently renovated second story of 's , where JS was living. According to the minutes, the purpose of the was to seek revelation on the duties of the and to gain instruction on how to build . Following prayer by the attendees, JS began dictating a lengthy revelation but was unable to finish in that session. The conference reconvened on 28 December for JS to complete the dictation begun on the previous day. As clerk of the conference, kept the minutes, which he later recorded in

Minute Book 1

.

Footnotes

1

Samuel Smith, Diary, 4 Dec. 1832; "Extracts of Letters from the Elders Abroad," The Evening and the Morning Star, Feb. 1833. [5]. According to Samuel Smith's journal, JS left the message for Hyde and Smith while traveling in New England in October and November 1832. Upon his return to Kirtland, JS sent a letter to members in Boston, Massachusetts, requesting again that Hyde and Smith return. (Samuel Smith, Diary, Oct.–Nov. and 4 Dec. 1832.)  

Smith, Samuel. Diary, Feb. 1832–May 1833. CHL. MS 4213.

The Evening and the Morning Star. Independence, MO, June 1832–July 1833; Kirtland, OH, Dec. 1833–Sept. 1834.

2

Levi Hancock, Statement, no date, CHL; see also Staker, Hearken, O Ye People, 251.  

Hancock, Levi. Statement, no date. CHL. MS 3958.

Staker, Mark L. Hearken, O Ye People: The Historical Setting of Joseph Smith's Ohio Revelations. Salt Lake City: Greg Kofford Books, 2009.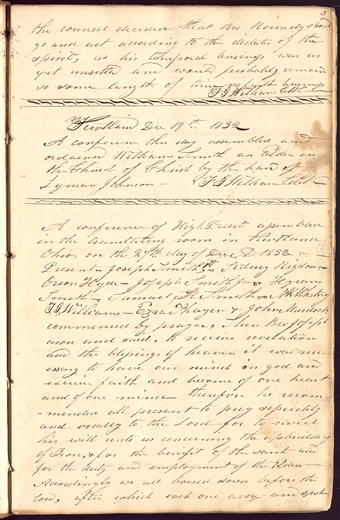 A of assembled in the translating room in Ohio on the 27
th.
day of D
ec.
AD 1832
——
Present— ,
2d
— — — Joseph Smith Jr.— — — — — & commenced by prayer, Then Bro Joseph arose and said, to receive revelation and the blessings of heaven it was necessary to have our minds
in
on god and exercise faith and become of one heart and of one mind therefore he recommended all present to prey seperately and vocally to the Lord for to reveel his will unto us concerning the upbuilding of , & for the benifit of the sa[i]nts and for the duty and employment of the — Accordingly we all bowed down before the Lord, after which each one arose and spoke [p. 3]
A of assembled in the translating room in Ohio on the 27th. day of Dec. AD 1832
——
Present— ,— — — Joseph Smith Jr.— — — — — & commenced by prayer, Then Bro Joseph arose and said, to receive revelation and the blessings of heaven it was necessary to have our minds on god and exercise faith and become of one heart and of one mind therefore he recommended all present to prey seperately and vocally to the Lord for to reveel his will unto us concerning the upbuilding of , & for the benifit of the saints and for the duty and employment of the — Accordingly we all bowed down before the Lord, after which each one arose and spoke [p. 3]