Home

>
Minutes and Discourse, 28 April 1842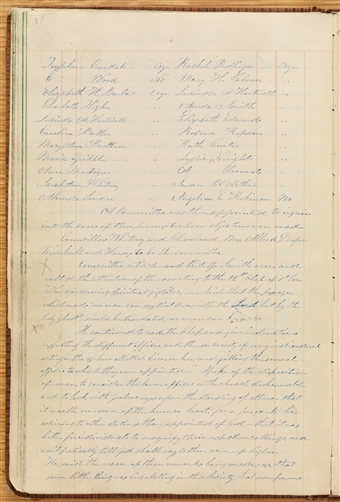 Tryphena Crandall—
aye
Rachel Drollinger—
aye
C [

blank

] Wood
No
Mary H. Palmer—
"
Elizabeth H. Barlow
aye
Lucinda A Hartwell
"
Charlotte Higbee
"
Amida [Amanda Barnes] Smith
"
Lucinda A. Hartwell
"
Elizabeth Edwards
"
Caroline Butler
"
Roxena Repsher
"
Mary Ann Badlam
"
Ruth Curtis
"
Maria Gribble—
"
Lydia Knights [Knight]
"
Ann Montague
"
A [

blank

] Clements
"
"
Susan M

c

Arthur
"
Almeda Snider [Snyder]
"
no
A Committee was then appointed to inquire into the cases of those persons to whom objections were made
Councillors and , Mrs. Allred, and [Charlotte] Hawes to be the committee.
Committee retir'd— and J. Smith arose and call'd the attention of the meeting to the 12
th
Chap. of 1
st
Cor. "Now concerning spiritual gifts" &c.— Said that the passage which reads "no man can
say
that Jesus is the the
Christ
<​Lord​> but by the holy ghost," should be translated, no man can
know
&c
He continued to read the Chap. and give instructions respecting the different offices, and the necessity of every individual acting in the sphere allotted him or her; and filling the several offices to which they were appointed— Spoke of the disposition of man, to consider the lower offices in the dishonorable and to look with jealous eyes upon the standing of others— that it was the nonsense of the human heart, for a person to be aspiring to other stations than appointed of God— that it was better for individuals to magnify their respective callings, and wait patiently till God shall say to them come up higher. He said the reason of these remarks being made, was, that some little thing was circulating in the , that some persons [p. [35]]
Tryphena Crandall—
aye
Rachel Drollinger—
aye
C [

blank

] Wood
No
Mary H. Palmer—
"
Elizabeth H. Barlow
aye
Lucinda A Hartwell
"
Charlotte Higbee
"
Amida Amanda Barnes Smith
"
Lucinda A. Hartwell
"
Elizabeth Edwards
"
Caroline Butler
"
Roxena Repsher
"
Mary Ann Badlam
"
Ruth Curtis
"
Maria Gribble—
"
Lydia Knights [Knight]
"
Ann Montague
"
A [

blank

] Clements
"
"
Susan McArthur
"
Almeda Snider [Snyder]
"
no
A Committee was then appointed to inquire into the cases of those persons to whom objections were made
Councillors and , Mrs. Allred, and [Charlotte] Hawes to be the committee.
Committee retir'd— and J. Smith arose and call'd the attention of the meeting to the 12th Chap. of 1st Cor. "Now concerning spiritual gifts" &c.— Said that the passage which reads "no man can
say
that Jesus is the the Lord but by the holy ghost," should be translated, no man can
know
&c
He continued to read the Chap. and give instructions respecting the different offices, and the necessity of every individual acting in the sphere allotted him or her; and filling the several offices to which they were appointed— Spoke of the disposition of man, to consider the lower offices in the dishonorable and to look with jealous eyes upon the standing of others— that it was the nonsense of the human heart, for a person to be aspiring to other stations than appointed of God— that it was better for individuals to magnify their respective callings, and wait patiently till God shall say to them come up higher. He said the reason of these remarks being made, was, that some little thing was circulating in the , that some persons [p. [35]]