Home

>
Minutes and Testimonies, 12–29 November 1838 [State of Missouri v. Gates et al. for Treason]
Source Note

Minutes and Testimonies, , Ray Co., MO, 12–29 Nov. 1838,

State of MO v. Gates et al. for Treason

(Fifth Judicial Circuit of MO 1838); unidentified handwriting; 126 pages; Eugene Morrow Violette Collection, State Historical Society of Missouri, Columbia.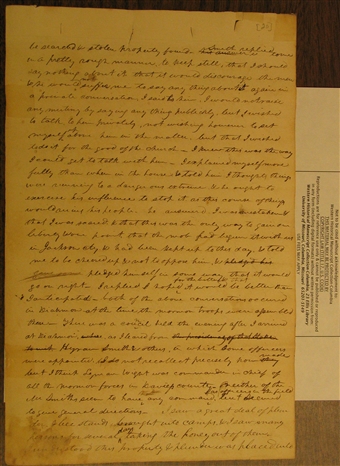 be searchd & stolen property found—
his answer
<​Smith replied​> to me in a pretty rough manner, to keep still, that I should say nothing about it. that it would discourage the men & he would <​not​> suffer me to say any thing about it. again in a private conversation, I said to him, I would not raise any meeting by saying any thing publickly, but I wished to talk to him privately, not wishing however to set myself <​up​> above him in the matter, but that I wished to do it for the good of the church— I knew this was the way I could get to talk with him— I explained myself more fully than when in the house & told him I thought things were running to a dangerous extreme & he ought to exercise his influence to stop it, as this course of things would ruin his people. he answered, I was mistaken & that I was scared, & that this was the only way to gain our liberty & our point, that the mob had begun it with us in & had been kept up to this day, & told me to be cheered up & not to oppose him, &
pledged his gave some
pledged himself in some way that it would go on right— I replied I hoped <​for the better & that​> it would be better than I anticipated— both of the above conversations occurred in — at the time the mormon troops were assembled there— There was a council held the evening after I arrived at ,
where
, as I learned from
the presidency of that stake to wit
. & others, in which some offercers were appointed.
As
I do not recollect precisely how
they
<​made​> but I think was commander in chief of all the mormon forces in — Neither of the M
r
Smiths seem to have
<​had​>
any command <​as officers in the field​> but seemed to give general directions— I saw a great deal of plunder, & bee stands brought into camps, & I saw many persons for several <​days​> taking the honey out of them. I understood this property & plunder was placed into [p. [39]]
be searchd & stolen property found— Smith replied to me in a pretty rough manner, to keep still, that I should say nothing about it. that it would discourage the men & he would not suffer me to say any thing about it. again in a private conversation, I said to him, I would not raise any meeting by saying any thing publickly, but I wished to talk to him privately, not wishing however to set myself up above him in the matter, but that I wished to do it for the good of the church— I knew this was the way I could get to talk with him— I explained myself more fully than when in the house & told him I thought things were running to a dangerous extreme & he ought to exercise his influence to stop it, as this course of things would ruin his people. he answered, I was mistaken & that I was scared, & that this was the only way to gain our liberty & our point, that the mob had begun it with us in & had been kept up to this day, & told me to be cheered up & not to oppose him, & pledged himself in some way that it would go on right— I replied I hoped for the better & that it would be better than I anticipated— both of the above conversations occurred in — at the time the mormon troops were assembled there— There was a council held the evening after I arrived at , , as I learned from . & others, in which some offercers were appointed. I do not recollect precisely how made but I think was commander in chief of all the mormon forces in — Neither of the Mr Smiths seem to have any command as officers in the field but seemed to give general directions— I saw a great deal of plunder, & bee stands brought into camps, & I saw many persons for several days taking the honey out of them. I understood this property & plunder was placed into [p. [39]]