Home

>
Minutes and Testimonies, 12–29 November 1838 [State of Missouri v. Gates et al. for Treason]
Source Note

Minutes and Testimonies, , Ray Co., MO, 12–29 Nov. 1838,

State of MO v. Gates et al. for Treason

(Fifth Judicial Circuit of MO 1838); unidentified handwriting; 126 pages; Eugene Morrow Violette Collection, State Historical Society of Missouri, Columbia.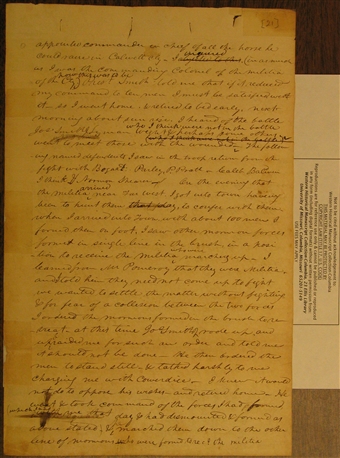 appointed commander in chief of all the horse he could raise in — I
objected to this
, <​inquired​> (in as much as I was the commanding Colonel of the militia of the .) <​how this was to be​> Pres
t
Smith told me that if it reduced my command to ten men I must be satisfied with it— so I went home, & retired to bed early, next morning about sun rise, I heard of the battle Jo
s
Smith Jr & perhaps some others, <​who I think were not in the battle​> went to meet those with the wounded—
<​(who I think were not in the battle)​>
The following named defendants I saw in the troop return from the fight with : — I think— & Norman Shearer— On the evening that the militia <​arrived​> near , I got into town haveing been to hunt them
to confer
that day, to confer with them— when I arrived into , with about 100 men, I found them on foot, I saw other mormon forces formed in single line in the brush, in a position to receive the militia <​who were​> marching up— I learned from M
r
Pomeroy that they were Militia, and I told him they need not come up to fight we wanted to settle the matter without fighting & for fear of a collision between the two forces I ordered the mormons formed in the brush to retreat— at this time Jo
s
Smith Jr rode up, and upbraided me for such an order and told me it should not be done— He then ordered the men to stand still— & talked harshly to me charging me with Cowardice— I knew it would not do to oppose his wishes— and retired home— He went & took command of the forces I had formed,
in the square
<​(which I had with me that​> day & had dismounted & formed as above stated—) & <​he​> marched them down to the other line of mormons
w
ho were formed to rec
d.
the militia [p. [41]]
appointed commander in chief of all the horse he could raise in — I , inquired (in as much as I was the commanding Colonel of the militia of the .) how this was to be Pres
t
Smith told me that if it reduced my command to ten men I must be satisfied with it— so I went home, & retired to bed early, next morning about sun rise, I heard of the battle Jos Smith Jr & perhaps some others, who I think were not in the battle went to meet those with the wounded— The following named defendants I saw in the troop return from the fight with : — I think— & Norman Shearer— On the evening that the militia arrived near , I got into town haveing been to hunt them that day, to confer with them— when I arrived into , with about 100 men, I found them on foot, I saw other mormon forces formed in single line in the brush, in a position to receive the militia who were marching up— I learned from Mr Pomeroy that they were Militia, and I told him they need not come up to fight we wanted to settle the matter without fighting & for fear of a collision between the two forces I ordered the mormons formed in the brush to retreat— at this time Jos Smith Jr rode up, and upbraided me for such an order and told me it should not be done— He then ordered the men to stand still— & talked harshly to me charging me with Cowardice— I knew it would not do to oppose his wishes— and retired home— He went & took command of the forces I had formed, (which I had with me that day & had dismounted & formed as above stated—) & he marched them down to the other line of mormons
w
ho were formed to recd. the militia [p. [41]]