Home

>
Minutes and Testimonies, 12–29 November 1838 [State of Missouri v. Gates et al. for Treason]
Source Note

Minutes and Testimonies, , Ray Co., MO, 12–29 Nov. 1838,

State of MO v. Gates et al. for Treason

(Fifth Judicial Circuit of MO 1838); unidentified handwriting; 126 pages; Eugene Morrow Violette Collection, State Historical Society of Missouri, Columbia.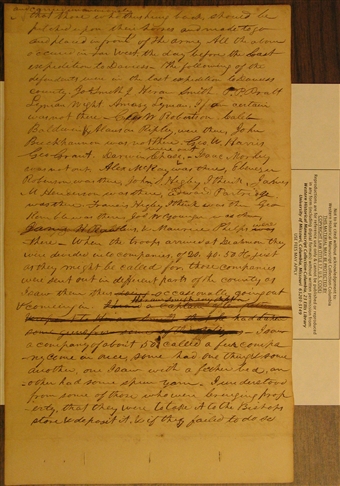 <​and carried unanimously​> that those who thus hung back, should be pitched upon their horses and made to go and placed in front of the army All the above occurred in , the day before the last expedition to — The following of the defendents were in the last expedition to . Jo
s
Smith Jr, , , , I
feel
am certain was not there— , & , were there, John Buckhannan was not there, .,<​were out​>, — was not out. was there, , was there, John. S. Higbey [Higbee] I think, James M Henderson was there, . was there. I think was there Geo Kimble was there, was there,
Henry Zabriski
, & Maurice [Morris] Phelps
was
<​were​>— there— When the troops arrived at they were divided into companies, of 20, 40, 50, &c just as they might be called for, those companies were sent out in different parts of the as I saw them thus
doing
occasionally going out & comeing in.
I heard <​ say that a​> a captain of ten return & report to that he had taken some guns from some of their citizens
— I saw a company of about 50 called a fur company come in once, some had one thing & some another, one I saw with a feather bed, another had some spun yarn— I understood from some of those who were bringing property, that they were to take it to the Bishops store & deposit it, & if they failed to do so [p. [58]]
and carried unanimously that those who thus hung back, should be pitched upon their horses and made to go and placed in front of the army All the above occurred in , the day before the last expedition to — The following of the defendents were in the last expedition to . Jos Smith Jr, , , , I am certain was not there— , & , were there, John Buckhannan was not there, .,were out, — was not out. was there, , was there, John. S. Higbey [Higbee] I think, James M Henderson was there, . was there. I think was there Geo Kimble was there, was there, , & Maurice [Morris] Phelps were— there— When the troops arrived at they were divided into companies, of 20, 40, 50, &c just as they might be called for, those companies were sent out in different parts of the as I saw them thus occasionally going out & comeing in. — I saw a company of about 50 called a fur company come in once, some had one thing & some another, one I saw with a feather bed, another had some spun yarn— I understood from some of those who were bringing property, that they were to take it to the Bishops store & deposit it, & if they failed to do so [p. [58]]