Home

>
Minutes and Testimonies, 12–29 November 1838 [State of Missouri v. Gates et al. for Treason]
Source Note

Minutes and Testimonies, , Ray Co., MO, 12–29 Nov. 1838,

State of MO v. Gates et al. for Treason

(Fifth Judicial Circuit of MO 1838); unidentified handwriting; 126 pages; Eugene Morrow Violette Collection, State Historical Society of Missouri, Columbia.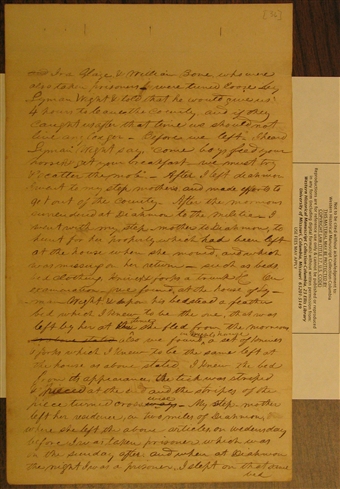 and
Ira Glaze, & William Bone, who were also taken prisoners— were tu[r]ned loose— <​by​> & told that he would give us 4 hours to leave the , and if they caught us after that time we should not live any longer— Before we left— I heard say, "come boys feed your horses & get your breakfast— we must try & scatter the mob"— After I left I went to my step mother's, and made efforts to get out of the — After the mormons surrendered at to the militia— I went with my step-mother to , to hunt for her property which had been left at the house when she moved, and which was missing on her return— such as beds, bed clothing, knives & forks a trunk &c On examination— we found, at the house of , &
on
upon his bed-stead a feather bed which I knew to be the one, that was left by her at the <​time​> she fled from the mormons.
as above stated
also we found <​in 's house​> a set of knives & forks which I knew to be the same left at the house as above stated. I knew the bed from its appearance, the tick was striped & pieced at the end and the stripes of the piece turned cross
ways
<​wise​>— My step-mother left her residence, in two miles of , where she left the above articles, on Wedensday before I was taken prisoner which was on the sunday after. and when at the night I was a prisoner, I slept on that same bed [p. [71]]
Ira Glaze, & William Bone, who were also taken prisoners— were turned loose— by & told that he would give us 4 hours to leave the , and if they caught us after that time we should not live any longer— Before we left— I heard say, "come boys feed your horses & get your breakfast— we must try & scatter the mob"— After I left I went to my step mother's, and made efforts to get out of the — After the mormons surrendered at to the militia— I went with my step-mother to , to hunt for her property which had been left at the house when she moved, and which was missing on her return— such as beds, bed clothing, knives & forks a trunk &c On examination— we found, at the house of , & upon his bed-stead a feather bed which I knew to be the one, that was left by her at the time she fled from the mormons. also we found in 's house a set of knives & forks which I knew to be the same left at the house as above stated. I knew the bed from its appearance, the tick was striped & pieced at the end and the stripes of the piece turned cross wise— My step-mother left her residence, in two miles of , where she left the above articles, on Wedensday before I was taken prisoner which was on the sunday after. and when at the night I was a prisoner, I slept on that same bed [p. [71]]