Home

>
Minutes and Testimonies, 12–29 November 1838 [State of Missouri v. Gates et al. for Treason]
Source Note

Minutes and Testimonies, , Ray Co., MO, 12–29 Nov. 1838,

State of MO v. Gates et al. for Treason

(Fifth Judicial Circuit of MO 1838); unidentified handwriting; 126 pages; Eugene Morrow Violette Collection, State Historical Society of Missouri, Columbia.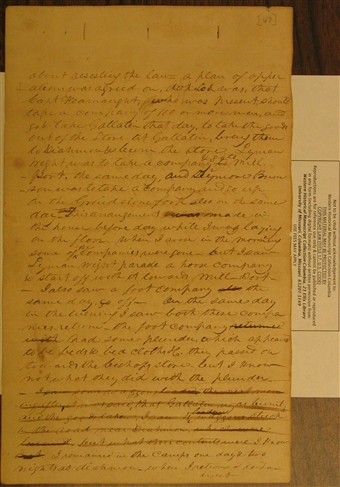 about resisting the law— a plan of operations was agreed on,
that it
which was, that , who was present, should take a company of 100 or more men, and go & take that day, to take the goods out of the Store at , bring them to & burn the store. was to take a company, <​& go to​>
to
Mill.-Port, the same day, and was to take a company and go up on the Grind stone fork also on the same day—
<​that​>
This arrangement was made in the house before day while I
way
was laying on the floor. When I arose in the morning some of <​the​> companies were gone— but I saw parade a horse company & start off with it towards Mill-Port— —I also saw a foot company
also
the same day, go off— On the same day in the evening I saw both these companies return— the foot company
returned with
had some plunder, which appeared to be beds & bed clothes &c. they passed on towards the bishop's store— but I know not what they did with the plunder.—
I saw some waggons loaded, the next morning after, it was said, that was burnt; and the goods taken, I saw 4 <​

loadened

​> waggons stuck in the road near , which were loadened, but what their contents were I know not.
I remained in the camps one day & two nights at — when I returned to west [p. [91]]
about resisting the law— a plan of operations was agreed on, which was, that , who was present, should take a company of 100 or more men, and go & take that day, to take the goods out of the Store at , bring them to & burn the store. was to take a company, & go to Mill.-Port, the same day, and was to take a company and go up on the Grind stone fork also on the same day— This arrangement was made in the house before day while I was laying on the floor. When I arose in the morning some of the companies were gone— but I saw parade a horse company & start off with it towards Mill-Port— —I also saw a foot company the same day, go off— On the same day in the evening I saw both these companies return— the foot company had some plunder, which appeared to be beds & bed clothes &c. they passed on towards the bishop's store— but I know not what they did with the plunder.— I remained in the camps one day & two nights at — when I returned to west [p. [91]]