Promissory Note, 9 February 1842 [Parker v. Foster]
Source Note

, Promissory Note, [, Hancock Co., IL], to Samuel Parker, 9 Feb. 1842; handwriting of John A. Forgeus; signature of ; notation by , [, Hancock Co., IL], [ca. 25 July 1842]; two pages; Nauvoo, IL, Records, CHL.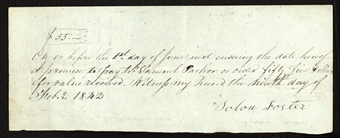 On or before the 1
st

.
day of June next ensuing the date hereof I promise to pay to Samuel Parker or order fifty five Dollars for value received. Witness my hand the ninth day of Feb
y

.
1842
[p. [1]]
On or before the 1
st
. day of June next ensuing the date hereof I promise to pay to Samuel Parker or order fifty five Dollars for value received. Witness my hand the ninth day of Feb
y
. 1842
[p. [1]]