Home

>
Promissory Note to Ebenezer Wiggins, 15 May 1841–C
Source Note

JS, Promissory Note, , Hancock Co., IL, to Ebenezer Wiggins, , Hancock Co., IL, 15 May 1841; handwriting of ; signature of JS; notations in unidentified handwriting; docket in unidentified handwriting; one page; JS Collection, CHL.

Historical Introduction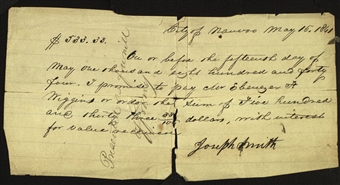 City of May 15, 1841
$533.33.
On or before the fifteenth day of May one thousand and eight hundred and forty four. I promise to pay M
r
Ebenezer F. Wiggins or order, the sum of Five hundred and thirty three
33/100
dollars, with interest for value received
Presented as freewill offering [p. [1]]
City of May 15, 1841
$533.33.
On or before the fifteenth day of May one thousand and eight hundred and forty four. I promise to pay Mr Ebenezer F. Wiggins or order, the sum of Five hundred and thirty three 33/100 dollars, with interest for value received
Presented as freewill offering [p. [1]]