Home

>
Summons, 26 October 1837 [Boynton and Hyde v. JS]
Source Note

and Charles H. Foot, Summons, to Sheriff, for JS, , Geauga Co., OH, 26 Oct. 1837,

Boynton and Hyde v. JS

(Geauga Co., OH, Court of Common Pleas 1838). Copied [ca. 3 Apr. 1838] in Transcript of Proceedings, Geauga County Court of Common Pleas, Common Pleas Record, vol. U, p. 512; handwriting of Charles H. Foot; Geauga County Archives and Records Center, Chardon, OH. Transcription from a digital color image made of the original in 2011.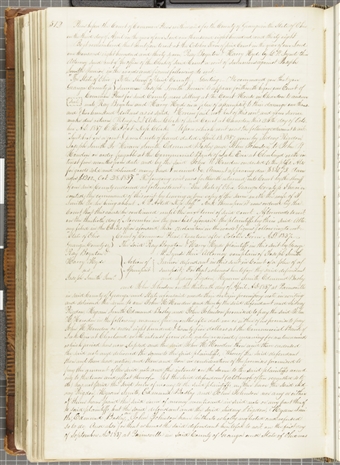 The State of Ohio)
ss. [scilicet])
seal To the Sheriff of said . . . Greeting:— We command you that you summon Joseph Smith Junior to appear forthwith before our Court of Common Pleas for said now sitting at the Court House in to answer unto and in a plea of , to their damages one thousand & two hundred dollars as is said. Herein fail not but of this writ and your service make due return. Witness Clerk of said Court at this 26th day of October A.D. 1837. C[harles] H. Foot Dep. Clerk. [p. 512]
The State of Ohio)
ss. scilicet)
seal To the Sheriff of said . . . Greeting:— We command you that you summon Joseph Smith Junior to appear forthwith before our Court of Common Pleas for said now sitting at the Court House in to answer unto and in a plea of , to their damages one thousand & two hundred dollars as is said. Herein fail not but of this writ and your service make due return. Witness Clerk of said Court at this 26th day of October A.D. 1837. Charles H. Foot Dep. Clerk. [p. 512]