Home

>
Transcript of Proceedings, 10 August 1844 [C. A. Foster v. JS and Coolidge]
Source Note

Transcript of Proceedings, , Hancock Co., IL, 10 Aug. 1844,

C. A. Foster v. JS and Coolidge

(Hancock Co., IL, Circuit Court 1844); handwriting of ; certifications printed with manuscript additions by , 10 Aug. 1844; certified by , 10 Aug. 1844; docket by , [, Hancock Co., IL, 10 Aug. 1844]; notation by James M. Campbell, [, McDonough Co., IL], 12 Aug. 1844; six pages; McDonough County Circuit Court Files, Illinois Regional Archives Depository vault, Archives and Special Collections, Leslie F. Malpass Library, Western Illinois University, Macomb. Includes seals.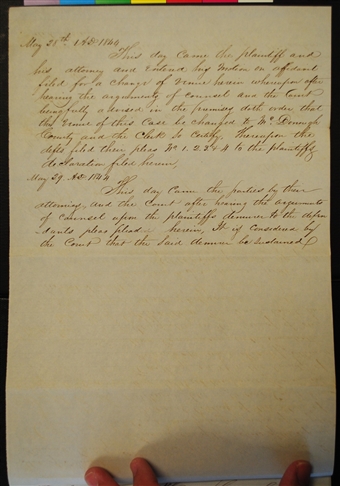 This day came the and his attorney and Entered his motion on affidavit filed for a change of venue herein whereupon after hearing the arguments of counsel and the Court being fully advised in the premises doth order that the venue of this case be changed to and the Clerk so Certify, Thereupon the defts, filed their N
o.
1. 2. 3. & 4 to the s filed herein,
May 29. A.D. 1844
This day came the parties by their attorneys, and the court after hearing the arguments of counsel upon the s to the defendants pleas pleaded herein, It is considered by the Court that the said demurer be sustained [
1/2 page blank
] [p. [2]]
May 28th. A.D. 1844
This day came the and his attorney and Entered his motion on affidavit filed for a change of venue herein whereupon after hearing the arguments of counsel and the Court being fully advised in the premises doth order that the venue of this case be changed to and the Clerk so Certify, Thereupon the defts, filed their No. 1. 2. 3. & 4 to the s filed herein,
May 29. A.D. 1844
This day came the parties by their attorneys, and the court after hearing the arguments of counsel upon the s to the defendants pleas pleaded herein, It is considered by the Court that the said demurer be sustained [
1/2 page blank
] [p. [2]]