Home

>
Transcript of Proceedings, circa 12 November 1839 [Rigdon et al. for the use of L. Cowdery v. W. Smith]
Source Note

Transcript of Proceedings, , Geauga Co., OH, ca. 12 Nov. 1839,

Rigdon et al. for the use of L. Cowdery v. W. Smith

(Geauga Co., OH, Court of Common Pleas 1839); Geauga County Court of Common Pleas, Common Pleas Record, vol. X, pp. 146–147; handwriting of ; Geauga County Archives and Records Center, Chardon, OH.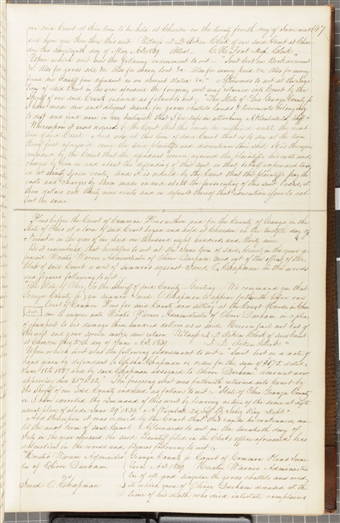 our said Court at their term to be held at on the twenty fourth day of June next and have you then there this writ. Witness Clerk of our said Court at this seventeenth day of May A.D. 1839. Attest— C[harles] H. Foot Dep. Clerk."
Upon which writ was the following endorsment to wit:—
"Suit brot. on Book account &c. Also for goods sold &c. Also for money lent &c. Also for money paid &c. Also for money found due plaintiff from defendant on an account stated &c."
Afterwards to wit at the June term of said Court in the year aforesaid the foregoing writ was returned into Court by the of our said endorsed as follows to wit:—
"The State of Ohio ss: I have made due and diligent search for goods chattels lands & tenements belonging to and find none in my bailiwick that I fee safe in attaching. 2d. Shff."
Whereupon it was ordered by the Court that this cause be continued until the next term of said Court. And now at this term of said Court that is to say at the term thereof first aforesaid come the said plaintiffs and discontinue their suit. It is therefore considered by the Court that the recover against the plaintiffs his costs and charges by him in and about the defending of this suit in that behalf expended taxed at ninety seven cents; And it is ordered by the Court that the plaintiffs pay the costs and charges by them made in and about the prosecuting of this suit taxed at three dollars and thirty nine cents, and in default thereof that issue to collect the same. [p. 147]
our said Court at their term to be held at on the twenty fourth day of June next and have you then there this writ. Witness Clerk of our said Court at this seventeenth day of May A.D. 1839. Attest— Charles H. Foot Dep. Clerk."
Upon which writ was the following endorsment to wit:—
"Suit brot. on Book account &c. Also for goods sold &c. Also for money lent &c. Also for money paid &c. Also for money found due plaintiff from defendant on an account stated &c."
Afterwards to wit at the June term of said Court in the year aforesaid the foregoing writ was returned into Court by the of our said endorsed as follows to wit:—
"The State of Ohio ss: I have made due and diligent search for goods chattels lands & tenements belonging to and find none in my bailiwick that I fee safe in attaching. 2d. Shff."
Whereupon it was ordered by the Court that this cause be continued until the next term of said Court. And now at this term of said Court that is to say at the term thereof first aforesaid come the said plaintiffs and discontinue their suit. It is therefore considered by the Court that the recover against the plaintiffs his costs and charges by him in and about the defending of this suit in that behalf expended taxed at ninety seven cents; And it is ordered by the Court that the plaintiffs pay the costs and charges by them made in and about the prosecuting of this suit taxed at three dollars and thirty nine cents, and in default thereof that issue to collect the same. [p. 147]