Home

>
Transcript of Proceedings, circa 3 April 1838 [L. Holmes and C. Holmes v. JS and Cahoon]
Source Note

Transcript of Proceedings, [], Geauga Co., OH, ca. 3 Apr. 1838,

L. Holmes and C. Holmes v. JS and Cahoon

(Geauga Co., OH, Court of Common Pleas 1838); Geauga County Court of Common Pleas, Common Pleas Record, vol. V, pp. 63–65; handwriting of Charles H. Foot; signature presumably of ; Geauga County Archives and Records Center, Chardon, OH. Transcription from a digital color image made of the original in 2011.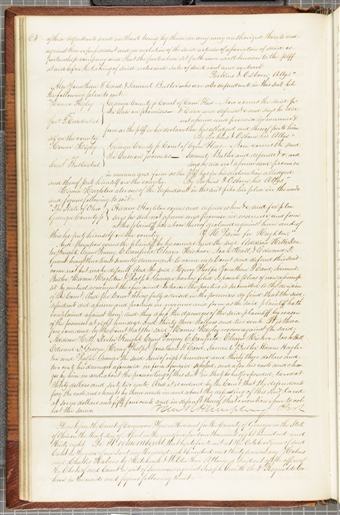 Pleas before the Court of Common Pleas within and for the County of in the State of on the third day of April in the year of our Lord one thousand eight hundred and thirty eight. Be it remembered, that heretofore to wit at the October Term of said Court in the year of our Lord one thousand eight hundred and thirty seven Lory Holmes and Charles Holmes by Hitchcock & Wilder their Attorneys sued out of the office of the of said Court a writ of Summons against Joseph Smith Jr. & , in the words and figures following to wit: [p. 63]
Pleas before the Court of Common Pleas within and for the County of in the State of on the third day of April in the year of our Lord one thousand eight hundred and thirty eight. Be it remembered, that heretofore to wit at the October Term of said Court in the year of our Lord one thousand eight hundred and thirty seven Lory Holmes and Charles Holmes by Hitchcock & Wilder their Attorneys sued out of the office of the of said Court a writ of Summons against Joseph Smith Jr. & , in the words and figures following to wit: [p. 63]