Home

>
Transcript of Proceedings, circa 31 October 1860 [Rounds for the use of the State of Ohio as well as Himself v. JS]
Source Note

Transcript of Proceedings, , Geauga Co., OH, [ca. 31 Oct. 1860],

Rounds for the use of the State of OH as well as Himself v. JS

(Geauga Co., OH, Court of Common Pleas 1860); Geauga County Court of Common Pleas, Common Pleas Record, vol. 36, p. 339; handwriting of William N. Keeny; probable signature of Horace Wilder; Geauga County Archives and Records Center, Chardon, OH.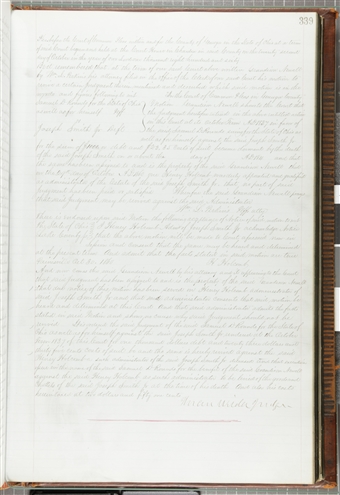 Plea before the Court of Common Pleas within and for the County of in the State of at a term of said Court begun and held at the Court House in in said on the twenty second day of October in the year of our Lord one thousand eight hundred and sixty
Be it remembered that at the term of our said Court above written by his attorney filed in the office of the Clerk of our said Court his motion to revive a certain Judgment therein mentioned and described which said motion is in the words and figures following to wit
| | |
| --- | --- |
| for the State of ) | Motion |
| as well as for himself Pl[ainti]ff) | |
| vs) | |
| Joseph Smith Jr Def[endan]t) | |
"In the Court of Common Pleas in shows to the Court that the Judgment heretofore entered in the above entitled action in this Court at its October Term AD 1837 in favor of the said suing for the State of as well as for himself against the said Joseph Smith Jr for the sum of $1000.00 debt and $23.35 costs of suit became dormant by the death of the said Joseph Smith on or about the [
blank
] day of [
blank
] AD 184[
blank
] and that the same has been assigned to and is the property of the said that on the 29
th
day of October AD 1860 one was duly appointed and qualified as administrator of the Estate of the said Joseph Smith Jr. that no part of said Judgment has been paid or satisfied Wherefore the said prays that said Judgment may be revived against the said Administrator
s atty["]
There is endorsed upon said Motion the following acceptance of Notice of said motion to wit
The State of Ohio)
Lake County ss [scilicet])
I Adm
r
of Joseph Smith Jr acknowledge Notice that the above motion will be made to Court aforesaid now in Session and consent that the same may be heard and determined at the present term And admit that the facts stated in said motion are true
Oct 30, 1860
And now comes the said by his and it appearing to the Court that said Judgment has been assigned to and is the property of the said that due notice of this motion has been served on administrator of said Joseph Smith Jr and that said consents that said motion be heard and determined at this Court and that said admits the facts stated in said Motion and shows no cause why said Judgment should not be revived It is ordered the said Judgment of the said for the State of as well as for himself against the said Joseph Smith Jr rendered at the October Term 1837 of this Court for one thousand dollars debt and twenty three dollars and thirty five cents costs of suit be and the same is hereby revived against the said as such administrator of the said Joseph Smith Jr deceased and that issue in the name of the said for the benefit of the said against the said as such administrator to be levied of the goods and chattels of the said Joseph Smith Jr at the time of his death And also his costs herein taxed at two dollars and fifty one cents
Horace Wilder Judge [p. 339]
Plea before the Court of Common Pleas within and for the County of in the State of at a term of said Court begun and held at the Court House in in said on the twenty second day of October in the year of our Lord one thousand eight hundred and sixty
Be it remembered that at the term of our said Court above written by his attorney filed in the office of the Clerk of our said Court his motion to revive a certain Judgment therein mentioned and described which said motion is in the words and figures following to wit
| | |
| --- | --- |
| for the State of ) | Motion |
| as well as for himself Plaintiff) | |
| vs) | |
| Joseph Smith Jr Defendant) | |
"In the Court of Common Pleas in shows to the Court that the Judgment heretofore entered in the above entitled action in this Court at its October Term AD 1837 in favor of the said suing for the State of as well as for himself against the said Joseph Smith Jr for the sum of $1000.00 debt and $23.35 costs of suit became dormant by the death of the said Joseph Smith on or about the [
blank
] day of [
blank
] AD 184[
blank
] and that the same has been assigned to and is the property of the said that on the 29th day of October AD 1860 one was duly appointed and qualified as administrator of the Estate of the said Joseph Smith Jr. that no part of said Judgment has been paid or satisfied Wherefore the said prays that said Judgment may be revived against the said Administrator
s atty"
There is endorsed upon said Motion the following acceptance of Notice of said motion to wit
The State of Ohio)
Lake County ss scilicet)
I Admr of Joseph Smith Jr acknowledge Notice that the above motion will be made to Court aforesaid now in Session and consent that the same may be heard and determined at the present term And admit that the facts stated in said motion are true
Oct 30, 1860
And now comes the said by his and it appearing to the Court that said Judgment has been assigned to and is the property of the said that due notice of this motion has been served on administrator of said Joseph Smith Jr and that said consents that said motion be heard and determined at this Court and that said admits the facts stated in said Motion and shows no cause why said Judgment should not be revived It is ordered the said Judgment of the said for the State of as well as for himself against the said Joseph Smith Jr rendered at the October Term 1837 of this Court for one thousand dollars debt and twenty three dollars and thirty five cents costs of suit be and the same is hereby revived against the said as such administrator of the said Joseph Smith Jr deceased and that issue in the name of the said for the benefit of the said against the said as such administrator to be levied of the goods and chattels of the said Joseph Smith Jr at the time of his death And also his costs herein taxed at two dollars and fifty one cents
Horace Wilder Judge [p. 339]