Home

>

Kirtland, City of Revelation: A Joseph Smith Papers Podcast
Kirtland, City of Revelation: A Joseph Smith Papers Podcast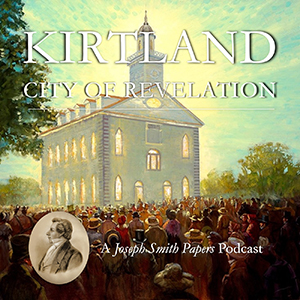 Series host
Spencer W. McBride
, PhD, interviews historians in a documentary-style podcast about the way men and women flocked to Kirtland in the 1830s to hear the voice of God through the prophet Joseph Smith. The episodes consider Kirtland as a site of abundant revelation and the place where church leaders organized much of the church. The episodes also illuminate how Joseph Smith was intent on teaching church members in Kirtland how to hear the voice of God themselves.
Available On:
Episodes
Additional Resources
Revelations
Kirtland Temple
Places and Topics
Videos
About
The Priesthood Restored
podcast is produced in cooperation with the
Latter-day Saint Channel
.
Host: Spencer McBride
Audio Engineer: Curt Dahl
Executive Producer: Spencer McBride
Producer: Curt Dahl
Research Assistants: Brokke Jurges
Production Coordinator: Matthew Mangum
Cover Art: "Glorious Light – Kirtland Temple" by Glen Hopkinson (glenhopkinson.com)
Editors: Angela Thompson
Web Team: Christopher Clark, Jake Duncan, Jim McKenna, Connor Monson, Michael Smith, Jon Thorup, DJ Christensen, Nick Faber, Andres Martinez